Ways to stay active outside during pandemic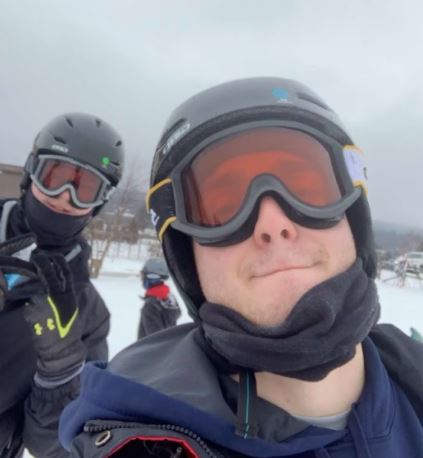 Even though you are bundled up in jackets, scarves, hats, gloves, and layers galore, you're cold. But, due to the pandemic, outside is the best place to see other people or grab a meal. Although the dreaded cold can prevent some of these activities from sounding appealing, there are still outdoor activities you can do during the colder months.
The first fun outdoor activity awaiting you is go skiing or snowboarding with friends or family. This activity is perfect because you already have to wear face coverings to avoid getting your face wind-burned. You can simply put a mask underneath these face coverings and have an even safer experience. 
These mountain sports are also perfect for the cold weather during the pandemic because you already have to stay bundled up to stay warm in the mountains. Since skiing and snowboarding have been around for a long time, the art of staying warm during the winter has already been mastered. You can enjoy quality time with your friends and/or family while still maintaining social distancing and staying safe from Covid-19.
Another outdoor event you can participate in during the cold is taking hikes. This is a great way to get some exercise outside and to also enjoy the weather. If it gets too cold, this activity may be hard to do, but it can still allow for a great way to go outside and see friends or family. The hike can also just be a walk around your neighborhood. You can wear masks, stay 6-feet apart, and still be able to engage in conversation and stay safe.
A fire-pit is another activity that will keep you warm but also entertained during these winter months. You can buy one on Amazon for pretty cheap. Fire pits are a great way to stay warm, make s'more, and see people from a distance. Not only does a fire-pit help you stay at a distance from people, but it also allows for you to warm yourself up even.
Another outdoor activity that is great for the colder months is strolling around a local town or city and seeing all the stores and food cultures they have to offer. Luckily, we are so close to Washington, D.C., that there is so much we can go see. They have outdoor sightseeing, food trucks for when you get hungry, beautiful spots to hike at, and further great places to stop and take in the sights. They have adapted to the virus and included many Corona-safe activities for families to participate in that allows for them to still maintain safety precautions.
Although the virus has taken a toll, that does not mean you cannot still enjoy the company of others while still maintaining corona-safe precautions. Adapting and discovering new activities while staying safe is possible and allows for you to enjoy the company that you rightfully deserve.
Leave a Comment
Your donation will support the student journalists of Thomas S. Wootton High School. Your contribution will allow us to purchase equipment and cover our annual website hosting costs.