Trump trumps Clinton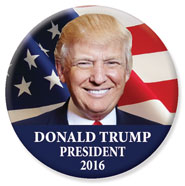 A seismic earthquake shocked the political world on Nov. 8 when Donald Trump, the billionaire businessman and reality TV mogul of New York, after running a campaign rich with incendiary, off-color remarks, defied the laws of history and defeated former Secretary of State Hillary Clinton in the nearly two year-long contest for the presidency of the United States. Trump, following his historic victory, acknowledged the importance of repairing a divided nation stricken with polarization and anger.
The polls closed in various states at 7 p.m. on the East Coast. Virginia (leaning toward Clinton) and Georgia (leaning toward Trump) began to show a long night for the Democrats, with Georgia initially far out of reach and Virginia beginning in the hands of Trump. Both states ultimately narrowed as the night went on, and Clinton managed to carry Virginia's 13 electoral votes, but given her campaign's confidence in a large margin of victory in the state, and considering that her running mate, Sen. Tim Kaine, was from Virginia, Clinton's campaign saw her narrow margin of victory as an ominous forecast of their night to come.
Poll closings in the crucial battleground states of Florida, North Carolina and Ohio only continued to worsen the night for Clinton. Florida, which voted for President Barack Obama in both 2008 and 2012, and which has voted for the winner of every election since 1996, spent over an hour in a continuous flip-flop back and forth between Clinton and Trump. North Carolina, which voted for Obama in 2008 but Republican Mitt Romney in 2012 and was targeted intensively by both the Clinton and Trump campaigns, gave Trump a lead after it closed at 8 p.m. that he never lost. Ohio, which has voted for the winning presidential candidate in every election since 1964, gave Trump a whopping eight point margin of victory over Clinton, and was called about an hour after their polls closed. Ultimately, Trump carried Florida's 29 electoral votes, North Carolina's 15 electoral votes and Ohio's 18 electoral votes, helping to solidify his margin of victory.
The Clinton campaign saw these losses as significant but acknowledged that they still had a clear path to the 270 electoral votes needed to win the presidency. However, their night began to crumble following poll closings in Michigan, Pennsylvania and Wisconsin. Michigan and Pennsylvania had not voted Republican since 1988; Wisconsin since 1984. Trump quickly pulled ahead in Michigan and Wisconsin, maintaining his lead in both states until they were called for him past 1 a.m. Pennsylvania initially showed Clinton ahead, but Trump's overwhelming performance in the central part of the state and Clinton's lack of success in Philadelphia and the adjacent suburbs solidified the Keystone State as a red state in this election cycle. Michigan's 18 electoral votes, Pennsylvania's 20 and Wisconsin's 10 were all declared for Trump, giving him enough electoral votes to win the presidency.
Trump, in his victory speech, stated that the American people owed Clinton "a major debt of gratitude for her service to our country," a far cry from his stance only weeks before, when he argued that Clinton should serve time in prison for negligence throughout her political career. Acknowledging his own polarizing status as a figure in the world, Trump reminded his supporters of the need to "bind the wounds of division."
Trump, who ultimately won the electoral vote by a margin of 306 to 232, failed to capture the popular vote, which Clinton won by well over a million votes. This marks only the fifth time in American history of a popular-electoral vote split, after the elections of 1824, 1876, 1888 and 2000. Clinton's wide margin of victory in the popular vote has only revamped calls from angry Democrats to abolish the Electoral College. The Democrats have now won the popular votes in four of the last five elections, but won only two of them, in 2008 and 2012.
Catapulted into office by overwhelming support from white voters (a group he carried by a margin of 21 percent over Clinton) and men (which gave him a 12 percent advantage), Trump was able to make significant gains from Romney's performance across the country, aiding down ballot races in the process.
In the Senate, the Democrats captured only two seats, three short of the amount needed to form a governing majority. The gains were made in Illinois, where Sen. Mark Kirk, specially elected in 2010, lost reelection by nearly 14 percent to Congresswoman Tammy Duckworth, an Asian American paraplegic Iraq War veteran. The other gain came in New Hampshire, where Governor Maggie Hassan prevailed by only 978 votes over incumbent Sen. Kelly Ayotte, elected in 2010. Democrats were able to hold onto a close seat in Nevada as well, where Catherine Cortez Masto became the first Latina ever elected to the Senate, over Republican Congressman Joe Heck. Another historic victory included the election of Kamala Harris, D-Ca., who will become only the second female African American senator in American history. The first major transgender candidate for the Senate, Democrat Misty Snow of Utah, lost to Senator Mike Lee.
The Democrats made only six gains in the House of Representatives, not nearly enough to topple the large Republican majority. In the gubernatorial races, the Democrats lost three governorships: Missouri, New Hampshire and Vermont. The contest in North Carolina remains too close to call.
Trump, 70, will become the oldest elected first-term president in American history (Ronald Reagan formerly held the record, as he was elected at 69 in 1980). Clinton's loss is the lowest electoral total for a Democrat since Massachusetts Governor Michael Dukakis' failed 1988 campaign.
Protests and riots succeeding the election only convey the overwhelming challenge facing Trump upon his arrival into office on Jan. 20, 2017. He will begin naming crucial members of his administration throughout the next two weeks. Already named are chief of staff Reince Priebus, chairman of the national GOP and Stephen Bannon of Breitbart News as a senior adviser.
For most Americans, regardless of party affiliation, the end of the election is a blessing. But for millions across the country, Trump's victory is a four year-long curse.
Matthew Klein
Features Editor