New seasonal winter drinks get mixed reviews from students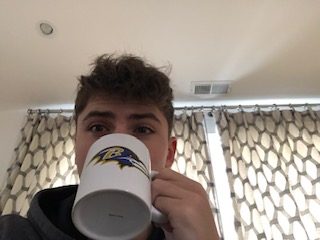 Every year after Thanksgiving, supermarkets and convenience stores begin to roll out winter specialty items such as eggnog, peppermint and hot chocolate. Oreo is one of the brands with limited edition winter flavors like gingerbread, peppermint bark and white fudge covered cookies. Coffee shops like Starbucks and Dunkin' Donuts have shifted from pumpkin spice to peppermint seasonal items.
Trader Joe's released their seasonal items for this winter including the sugar plum sparkling beverage, hot chocolate bombs, panettone cakes (Italian buttery fruit cakes), as well as a multitude of others that will be in stock for only a limited time.
Sophomore Ryan Kunst said, "Every winter I like to eat gingerbread flavored things because it reminds my grandma makes them and they taste really good. I can't wait to try all types of different gingerbread flavored things and make gingerbread houses with my family."
In the first ever American cookbook, American Cookery by Amelia Simmons, one of the recipes was for gingerbread loaves so gingerbread has been an American staple for centuries. Companies are still innovating with gingerbread, and Ben and Jerry's recently started selling eight ounce bags of gingerbread cookie dough chunks for the holiday season.
During the month of December, candy canes are the number one selling non-chocolate candy according to the National Confectioners Association.  One of the leading manufacturers in the breath mint and gum industry, Icebreakers, released their annual candy cane flavored "ice cubes" and breath mints. 
Those who don't enjoy these flavors have strong feelings about them. Sophomore Tyler Cosgrove said, "I really don't like candy canes that much because I really don't like anything peppermint really.  I feel like everywhere I go in the winter I'll find candy canes and if it was a traditional food nobody would eat it so, I don't feel like brands should just slap a candy cane flavor on their items and that they should focus on other flavors like hot chocolate or cinnamon buns."
Of all the winter foods and drinks, hot chocolate is the most popular. Hot chocolate was originally used as a treatment for special stomach and liver related diseases in the 17th century and wasn't consumed as a beverage commonly. In an interview conducted with 20 students, 90% of students say that their favorite winter beverage of choice is hot chocolate, while only10% saying either eggnog or cider. Freshman Lily King said, "I like to drink hot chocolate on cold and snowy days when I've been outside the whole day.  I also like to drink it when I'm watching one of my favorite holiday movies like 'Home Alone' or 'The Grinch'."
These holiday limited edition flavors jolt huge spikes in revenue that encourage more and more limited edition flavors to be created. Starbucks has added more than 10 holiday flavors to keep up with the increasing demand for seasonal drinks,peppermint mocha being the most popular flavor and peppermint hot chocolate coming in second.
Leave a Comment
Your donation will support the student journalists of Thomas S. Wootton High School. Your contribution will allow us to purchase equipment and cover our annual website hosting costs.
About the Contributor
Mason Berk, managing editor



Senior managing editor Mace Berk is in his fourth year on the Common Sense and enjoys to LARP and pray in his free time.