Amazon Prime original The Marvelous Mrs. Maisel Delivers its fourth season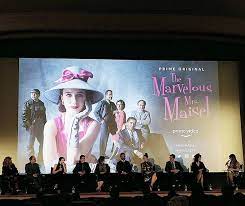 The fourth season of "The Marvelous Mrs. Maisel" premiered on Feb. 18. Two episodes are launched per week on Amazon Prime video. The final two episodes were released this past week, as I was waiting with angst and excitement to see what Amy Sherman-Palladino — who also created popular Netflix series "Gilmore Girls" — has introduced in newer episodes.  
The series is about Miriam "Midge" Maisel (played by actress Rachel Brosnahan), and her culturally Jewish family, the Weissmans, who live in the Upper East Side of Manhattan. In its first season, the show entails Yom Kippur 1958, when Midge makes a sudden change to divorce her husband, Joel. This leads Midge to abruptly start her comedy gig one night. Midge ends up being spotted by Susie, the club's manager and her eventual personal manager. She then starts a routine of stand-up comedy because her first appearance was such a success. Into season two, the show highlights Midge's newfound balance of life with two young children, mishaps with her own family and a continuously strong connection with her divorced husband's family at the Steiner Mountain Resort in the Catskills. During summer of 1959, the comedian failed to keep her secret career of comedy hidden from family and peers as female comedians are practically unheard of, besides her nemesis, Sophie Lennon (played by actress Jane Lynch). In season three, Midge opens for singer Shy Baldwin on his world tour until she ends up getting kicked off, leaving her career and finances in jeopardy. 
This leads to now: season four. The season started out with a slower sequence of events, but I think this was necessary after the dramatic plot twist at the end of the third season. Even though the ending of season four was not as daunting and climactic as season three, I am pleased to see that Midge and her family are continuing to hop back on their feet and push against all odds in their careers, while keeping stability at home by buying back their apartment and emotionally supporting each other. 
I feel that this season has created a "slow burn" into the success of all of the character's careers; Midge starts comedy at a new club, Midge's father Abe writes reviews after leaving his job at Columbia University, her mother Rose pursues Jewish matchmaking, her ex-husband Joel launches his club in Chinatown and Midge's manager Susie establishes her entertainment management company as "Susie Myerson and Associates."  
Show after show, Midge dresses in quirky yet classy late '50s glam in her dresses and hats. The intricate details of vintage cabs and hairstyles also continue to impress me. I await the last season, season five, with an abundance of enthusiasm to see how Midge, Susie and her family grow in their careers, love, life and family relationships. 
Leave a Comment
Your donation will support the student journalists of Thomas S. Wootton High School. Your contribution will allow us to purchase equipment and cover our annual website hosting costs.
About the Contributor
Maya Seiler, commons editor emeritus



Maya Seiler is a 2022 graduate. In her free time, she enjoys spending time with friends and baking. You can follow Maya's Instagram @maya.seiler.