Netflix's 'Emily in Paris' sparks controversy once again after release of second season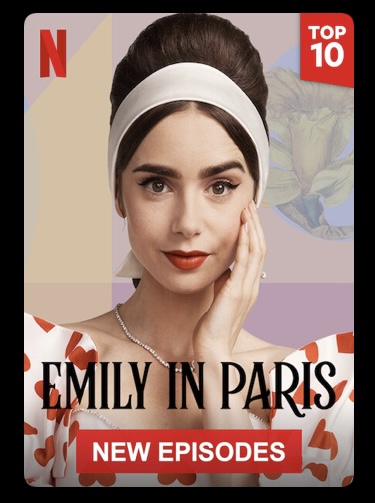 Audiences didn't know what to expect when the trailer for season two of "Emily in Paris" came out on Netflix. However on Dec. 22 questions were answered.
SPOILER ALERT: Don't read any further if you haven't watched it yet and don't want it to be spoiled.
People were excited to see what would happen next for Emily Cooper. The previous season left a lot of cliffhangers and room for new storylines. What's going to happen between Emily and Gabriel? What's going to happen between Emily and Camille? What's going to happen with Emily's work? This new season fills those holes up while also creating more drama.
"Emily in Pari"s is a romantic comedy with some added drama. The show focuses around Chicago marketing executive Emily Cooper, who is shipped to Paris for a year to provide an American perspective to a marketing firm called Savoir. In the first season, she struggles to fit in with the French culture, but along the way meets people who help her out while also wreaking havoc in her life.
This season has the same number of episodes as last season with 10 in total. Another similarity to last season is the rising of controversy over how certain nationalities were portrayed on the show, first season being the French and the next season being the Ukraine.
In season two, episode four titled, "Jules and Em," the character Petra is introduced. Petra is an Ukrainian woman who is enrolled in the same French class as Emily and gets partnered up. In the episode, Petra shoplifts and gets portrayed as someone with poor fashion sense and who has fears of getting deported. Some, mainly Ukrainian residents, complained about the issue, while others chose to defend the show.
In addition to Petra, other new characters are added to the cast list this season. One of the most important characters is Alfie, a Brit who also takes part in Petra and Emily's French class. Alfie is another potential love interest for Emily and causes tension between her and Gabriel.
This next season also continues the storyline between Emily and Gabriel, as well as Camille. Emily met Camille early in season one and they quickly became friends, until she found out Camille was Gabriel's girlfriend, causing conflicting feelings. At the end of season one Camille and Gabriel broke up and Emily ended up sleeping with Gabriel. Now in this season they have to work through all of these problems with the addition of Alfie.
Season 2 of Netflix's "Emily in Paris" has a lot in store for the viewers who still want to watch. Lots of laughs and love and drama are elements to look forward to. News has also come out that the show has been confirmed for two more seasons. Let's see what they have in store for Emily Cooper.
Leave a Comment
Your donation will support the student journalists of Thomas S. Wootton High School. Your contribution will allow us to purchase equipment and cover our annual website hosting costs.