Thanksgiving week schedule elicits mixed reviews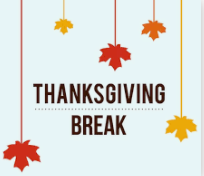 Thanksgiving week is a time for happiness, relaxation and family. For eight and a half hours between Monday and Tuesday, students at Montgomery County Public Schools (MCPS) did not have this same joy. On Monday and Tuesday MCPS had half day schedules for students. During most weeks, this would be a thrill for students, but on Thanksgiving week having to wake up early, go to school and do nothing was not ideal. 
During these two half days, many teachers had nothing planned for their day. Periods one through four were on Monday, while periods five through eight were on Tuesday. Each period was 60 minutes. For example, in my health class all we did was play computer games on our chromebooks. Not bad? Not bad, but not ideal. I would much rather have slept in late than wake up early to play games on my chromebook at school. However, not every student was against the split half day schedule. Sophomore Aryan Thakker felt that "it was good that we had four, one-hour classes each day because most classes need a lot more time to get through any material." 
Sure, that has some truth to it, but is it really the best use of time? Sleeping later and catching up on sleep missed from previous weeks would have been time better spent than waking up early and going into school. Yes, MCPS has to reach 181 days of school, but did they have to give us two half days in a row? While some may share this sentiment, other students looked at this as a time to catch up on any missing work before break. Sophomore Ryan Hu said, "These days were useful. They eased us into break while they slowly let us get used to less school and tie up loose ends." 
"
On Tuesday, making the advisory homeroom longer would be good so we have more time to go to different teachers for help."
— John Wang
One of the benefits of the two half days was that it gave students the opportunity to meet with teachers or to complete any missing assignments. For many, the opportunity to catch up on work in a school environment was easier than completing the work at home. Sophomore John Wang used the opportunity to catch up on work but also felt advisory homerooms should have been longer so students had more time to visit teachers. "On Tuesday, making the advisory homeroom longer would be good so we have more time to go to different teachers for help," Wang said. 
The Thanksgiving week schedule was weird, different, even a little wacky but many students found this to be a good idea. While there are benefits, a chance to catch up on sleep and have two off days rather than two half days would have been my preferred choice. Even so, these two half days were a good way to lead into Thanksgiving break and gave students an easier time adjusting to this sudden change and gearing into their Thanksgiving break.
Leave a Comment
Your donation will support the student journalists of Thomas S. Wootton High School. Your contribution will allow us to purchase equipment and cover our annual website hosting costs.
About the Contributor
Darren Shapiro, staff writer

Darren Shapiro is a junior and a staff writer in his third year on the Common Sense Staff. When he's not writing articles, Darren enjoys watching sports,...