Spring sports season gives athletes joy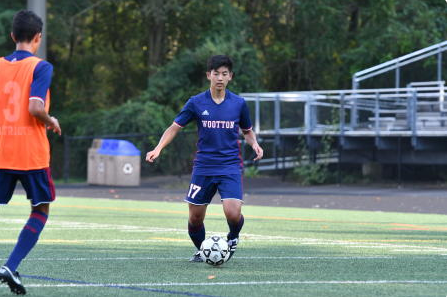 There is finally a light at the tunnel for those who missed their spring sports season last year and anticipated another year without it. This spring, high school students will have the opportunity to compete in spring sports such as baseball, soccer and lacrosse. 
This spring sports season won't have the feel that it normally does. Usually, you can count on the bleachers being filled with fans in support of their teams. This year, that is not the case. Due to the pandemic, social distancing, minimizing gatherings, and safety of all involved is at the forefront of the plan issued by MCPS for high school sports. Each athlete is allowed to have a maximum of two members of their family attend each game. In close contact sports such as soccer and lacrosse, all players will be expected to wear a mask while playing and to remain socially distanced on the sidelines. 
For high school athletes, having strange spring sports is better than not having a season at all. This is especially true for seniors who will not have another chance to play a high school sport. Although getting back to playing sports even with all these protocols is a great boon for all athletes, it is also disappointing for juniors and seniors who were hoping to still get looks by scouts to play at the college level. Recruitment of high school athletes, especially those who are looking to play Division 2 or Division 3, has come to a freeze during the pandemic. Normally the spring season of a high school senior's year gives them one more good chance to receive an offer to play at the college level. This season, none of that will be occurring.
This spring season will also contain fewer games. This spring season will have games for four to six weeks, between high schools who are close to each other in location. It won't be the normal three-month season. There will be no playoffs this year and no championship games. You might be wondering what the point of even having a season with all these protocols is. For one, it could be the final time for seniors to play at the high school level. Also, spring sports offer a chance to socialize with other people in person for the first time in what seems like forever. Furthermore, spring sports offers freshmen a chance to show what they can do at the high school level. 
Not having the screams and chants of your peers and friends from the sidelines and not being able to give your teammate a high five or sit in close proximity to them on the sideline or in the dugout is completely new to players. Even with these frustrating protocols, high school sports are back. From the crack of bat to the goals that will be scored, this spring season of high school sports will be unlike any other.