Women's national soccer team deserves equal pay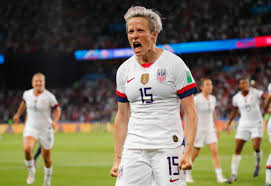 The U.S. women's national soccer team (USWNT) is getting paid less than the U.S. men's national soccer team (USMNT) despite their higher levels of success. 
"
All 28 members of the U.S. women's national team player pool allege U.S. Soccer has paid them less than the men's team…"
— The Wall Street Journal
Since the team is in the midst of a lawsuit for this, certain data for exact salaries is not currently available. However, there have been instances where players have come forward and shared the unfairness in the amount of money they were making and the reasons why. There are persuasive arguments as to why the women should be paid the same as the men. "All 28 members of the U.S. women's national team player pool allege U.S. Soccer has paid them less than the men's team, along with denying them equal playing, training and travel conditions and promoting their games less," The Wall Street Journal said.
Pay disparities have become public knowledge between the women's and men's teams. A repeated pattern of women getting paid less than men exists and it is made to seem normal and conventional. Hope Solo, a former USWNT goalie who won the 2015 World Cup, made $240,019 in 2015 compared to Tim Howard, a USMNT goalie with no titles, who made $428,022, according to Sporting News.
The USWNT's lawsuit brought up a point to prove the unfairness. "[The team's] lawsuit stipulated that if each team played and won 20 exhibition games in a year, 'female WNT players would earn a maximum of $99,000 or $4,950 per game, while similarly situated male MNT players would earn an average of $263,320 or $13,166 per game'," Sporting News said. 
People argue that the USWNT doesn't bring in as much revenue as the USMNT so they shouldn't be paid as much. Contrary to this popular belief, in 2015 the women surpassed the men in revenue after their World Cup win that year according to The New York Times. In 2016, the USWNT made $1.9 million more than men's games. In 2016-2018, the USWNT brought in $50.8 million in revenue whereas the USMNT only brought in $49.9 million according to CNBC.
While people may say that the women are not as good as the men so they don't deserve the money, the USWNT has won four World Cup titles and when they didn't win, they came in either second or third place, whereas the men have never placed. The men didn't even qualify for the 2018 World Cup and their best result was third place, which happened all the way back in 1930. The USWNT has also made the podium at five of the six women's Olympic Games and brought home four Olympic gold medals in 1996, 2004, 2008 and 2012. The men have not placed in the Olympics since 1904. 
A common belief is that there is a higher demand for men's soccer than women's soccer in the United States. During the 2018 men's World Cup final, Fox News reported that 11.4 million people watched on their TV's. This is no comparison to the 14.3 million people who watched the women's World Cup final in 2019 according to CNBC. 
Women's team merchandise also has a higher demand. "The 2019 women's stadium home jersey is the top-selling soccer jersey, men's or women's, ever sold on Nike.com in one season," CNBC said.
Game attendance is also getting higher for women. "According to data provided by the USSF, the men have outdrawn the women every year in attendance from 2006 to 2018. Research by ESPN indicated that changed in 2019, both for overall average (28,002 for the women versus 21,776 for the men) and for games in the U.S. (25,122 versus 23,305)," ESPN said.
Megan Rapinoe is a USWNT star who fiercely advocates for pay equality. "We won't accept anything less than equal pay," Rapinoe said.
Leave a Comment
Your donation will support the student journalists of Thomas S. Wootton High School. Your contribution will allow us to purchase equipment and cover our annual website hosting costs.
About the Contributor
Vivian Pisani, features editor
Senior Vivian Pisani is a features editor in her third year on the Common Sense Staff. In her free time she enjoys playing soccer, watching TV, and hanging...