P.S. I Still Love You disappoints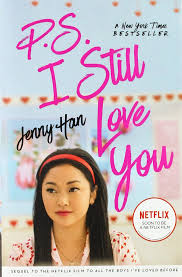 The new Netflix movie, To All The Boys: P.S. I Still Love You is the sequel to To All The Boys I've Loved Before. It was released on Feb. 12 exclusively to Netflix with the announcement of a third movie. The movie is definitely worth the watch.

In the first movie, the main character, Lara Jean's sister sends out love letters to all of the boys who she has loved in the past. In order for her to cover up her love for her sister's (recently) ex boyfriend, she fake dates Peter Kavinsky. Peter is the most popular boy in the school who "dates" Lara Jean to make his ex girlfriend jealous. In the process of their fake relationship, Lara Jean and Peter catch real feelings for each other and fall in love. Sophomore Jenna Siman said, "I loved the first movie so much because it was perfectly casted and it made everyone watching so happy to see them end up happy together after everything they went through."

The second movie picks up right where the first one ended. Peter and Lara Jean are happily in love and blocking out all of the hate from their peers. Although Peter got one of Lara Jean's love letters, he wasn't the only recipient.

The movie focuses on another one of Lara Jean's old loves, John Ambrose McClaren. She had received a letter from him in response to one she wrote him in sixth grade.
Confused over whether to respond or not, she puts it off and tells her boyfriend, who is not too happy to hear about this. Junior Connor Koch said, "I watched the movies with my friends and I really liked how the second movie perfectly followed the first movie so that there was no confusion about how far they skipped through Peter and Lara Jean's relationship."

During the volunteer fair put on by their school, Lara Jean and Peter choose different programs – which seems to be the worst decision for their relationship. On their first day of their volunteering, Lara Jean finds out that she is working alongside John Ambrose. While Lara Jean can't stop thinking about John Ambrose and about how insecure she is about her relationship with Peter, she doesn't tell Peter who she is working with and grows closer to John Ambrose.

After a lot of volunteering with John and fighting with Peter, Lara Jean finally makes her decision of who she wants to be with. Everyone should watch it in order to find out who she picks.

Although the movie is entertaining and a good use of time, the expectations set by the first movie made the sequel hard to live up to. Sophomore Brady Weiss said, "I didn't like the second movie as much as the first because it revealed a lot of negative things about Peter that we didn't know from the first movie."