From the inside: New season brings reflection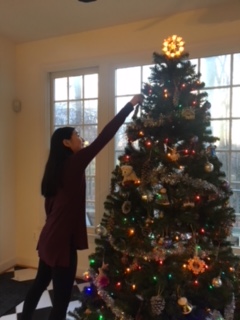 Students are wearing Christmas (and Hanukkah) sweaters, holding holiday inspired red Starbucks cups and getting restless, counting the days until winter break finally arrives. As the end of December draws near, I thought it would be fitting to take a moment to reflect on 2017.
When I look back at all that's happened from last December until now, I can't believe how time has flown. Around this time last December, I was learning about protein synthesis, learning how to work with derivatives and trying to figure out how to write an open-ended essay. I was also studying for the SAT and thinking about what courses to take senior year. How times have changed.
I feel so much more relaxed and comfortable now, having had three years to settle in. I'm relieved that college apps are almost done and looking forward to starting anew at another school next year. This time of year is exciting and nerve-wracking because unlike every year since Kindergarten, I don't know where I'll be next year; clouds of uncertainty blanket the future still.
Looking back on this year, there are so many things I'm thankful for. I'm glad that I finished junior year strong and had the chance to learn how to be a leader in a club. I'm so thankful for my teachers, who've done their best to make learning fun and exciting, and be flexible with scheduling during crazy times. I remember how AP Biology teacher Christina Joung kindly moved a test to Monday because the majority of us wouldn't have time to study with TNL the day before the test, and how AP Lang teacher Nicholas Hitchens pushed an essay due date back to give us crazed juniors a few days to breathe. I would like to say a big thank you to all the teachers here; as much you all challenge us with your high standards, tricky tests and hard grading, you deserve our sincere thanks for your expertise, dedication and support. Not many students in the country have the opportunity to experience the same level of academic training that we do, and that is thanks to you guys.
I'm also grateful for all of my fellow Patriot Ambassadors (PA) that have helped out at the exponentially increasing number of events throughout the year. I'm continually inspired by Ambassadors' selflessness exemplified through their willingness to volunteer, giving up homework time, time they could've spent relaxing and missing class to help out at various events. You guys are the best. I'm thankful for PA co-sponsors Anne-Marie Steppling and Meredith Lange who put countless hours into planning and executing events. I remember texting Steppling at 4 p.m. on a Sunday around this time last year, when I was trying to figure out how to place a T-shirt order. How she finds the time to handle PA, teaching and a family, I'll never know. Steppling, we love you.
With 2018 on the horizon, I encourage you to take a break from school and extracurricular activities to reflect on your past year. What went well? What were your strengths and weaknesses? Do you wish you did something differently? How can you improve? As cliché as it sounds, reflecting is an excellent way to keep centered and not just let a year disappear into the fog. And remember, if this year felt hard and was a bit of a struggle, don't worry. You can and will get through it. Take some time to relax over break and start on a fresh page in January, it'll do the trick. Wishing everyone happy holidays.
Rachel Wei
Editor-in-Chief