Students express concern over rising COVID cases in schools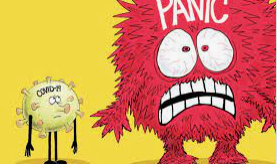 The COVID-19 pandemic has a new variant known as the Omicron variant. This variant of COVID spreads quickly from person to person and is more contagious than any previous variant. This variant is cause for concern for students, staff and families as school can be an area of high transmission due to poor ventilation and overcrowding in the building. 
This puts schools and school districts in a precarious position. Are the risks that are taken by having students remain in the classroom worth it despite the threat to the health and safety of school communities? Sophomore Evan Geisner thinks this is a cause for worry. "I am concerned about the current outbreak of COVID because I feel that MCPS is not pritorizing the health and well-being of its students and teachers, instead prioritizing education. This is a common view shared by students and staff, especially those who are in higher risk groups. Weighing the health and safety of students and staff versus the better learning environment that remaining in the classroom provides puts school districts all across the country in the face of tough decisions that will not be agreed upon by all members of the school community.
Fortunately, for those who test positive for COVID, particularly the Omicron variant, studies from the CDC have shown that while the virus is more contagious, the symptoms people feel are not as severe as other variants. Of course, this guidance applies to those who have been fully vaccinated or fully vaccinated and boosted, while more severe symptoms are likelier in those who are unvaccinated. 
In Montgomery County, the vaccination rate is over 95% percent, putting this county over the herd immunity number of 70 percent fully vaccinated. Even still, students, staff and their families continue to be concerned about the new wave of COVID. Sophomore Aryan Thakker said they feel that "The sooner we can resolve this the better but we should not panic due to high vaccination rates in our state and the county." 
Many people, even with the new variant, traveled over winter break, which is far different than a year ago when there was minimal travel due to the lack of vaccinations available. People, even with higher case rates and new variants, feel that they want to move on with their lives. This is a common theme shared by families who traveled over the break and had no plans or thoughts about postponing their trip or canceling it altogether. 
Even though there is cause for concern with this new variant, MCPS schools have said they will continue to monitor covid cases and do what they can to try to remain open to have a stable learning environment for students and a constant routine for school communities. If cases rise, and the percentage of students and staff who test positive continue to go up, MCPS will decide on a school-by-school basis as to whether they need to go virtual or can remain in the classroom.
Leave a Comment
Your donation will support the student journalists of Thomas S. Wootton High School. Your contribution will allow us to purchase equipment and cover our annual website hosting costs.
About the Contributor
Darren Shapiro, staff writer

Darren Shapiro is a junior and a staff writer in his third year on the Common Sense Staff. When he's not writing articles, Darren enjoys watching sports,...