2016 recapped: Month-by-month sendoff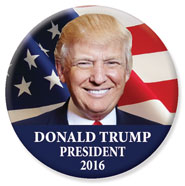 No year in my 16-year-old life has been as much of a rollercoaster ride than 2016. Between politics, music, pop culture and everything in between, this year is definitely one that will be remembered. What people will remember may not be the most "important" or "innovative" topics we should be focusing on. Let's not forget that most of the year was focused on Harambe, the infamous gorilla-turned-meme that was killed at the Cincinnati Zoo back in May and is still relevant. Fortunately there is news bigger than that incident.
January started out with the emergency crisis in Flint, MI, one of the worst water crises in US history, affecting more than 100,000 residents with unsafe water from the Flint River. As of now they're still working on cleaning up the water supply and not much is known on the status of their progress. Rock and pop icon David Bowie died from liver cancer on Jan. 10, making the month a rocky start to a new year. Bowie released 27 studio albums during his lengthy career, including Blackstar, an album released days before his death, yet ranked in the top five in plenty of "Best Album of the Year" lists.
February began with a win for the NFL's Denver Broncos over the Carolina Panthers 24-10 to capture the Super Bowl 50 title. With 39-year-old Peyton Manning at quarterback, he became the oldest quarterback in league history to ever participate in the Super Bowl. Less than a week later, at the age of 79, the US was shaken by the death of Supreme Court Justice Antonin Scalia, who was found dead at a ranch in Texas. Due to the vacancy in the Supreme Court, the Congressional Republicans vowed to block any nominations put forth by President Obama, something that caused huge debate in the nation.
Former First Lady Nancy Reagan was the most notable person to die in March, as she died at the age of 94. Just 10 days later, President Obama nominated Merrick Garland as a Supreme Court Justice, but the process was shut down by the Republicans so they could hold out to appoint someone they chose. The Brussels Airport was in the news this month as it was attacked two times by suicide bombers of ISIL. There were over 35 deaths reported and 240 injuries making it the deadliest attack in Belgian history. The governor of North Carolina signed a bill that blocks transgender individuals for using bathrooms of the gender that they identify with, something that enraged both transgender people and their supporters alike.
In possibly the most shocking death this year, legendary rock and roll icon Prince died at the age of 57 in April. Prince inspired millions with hits such as "Purple Rain," "1999" and "Little Red Corvette." The Villanova Men's Basketball Team defeated the North Carolina Tarheels off of a game-winning three-pointer as time expired from Kris Jenkins. This was only their second championship; the first since 1985. Harriet Tubman was announced to be replacing Andrew Jackson on the $20 bill beginning in 2020. She is the first woman on US currency since Martha Washington was placed on the $1 silver certificate. The biggest scandal of the month belongs to the Panama Papers, millions of confidential documents that were leaked from a Panama law firm revealing how some of the world's richest people funnel their assets into secretive shell companies set in lightly regulated jurisdictions.
In presidential news, Donald Trump was named the Republican Nominee, leading up to a successful election for him. He is set to take office on Inauguration Day on Jan. 20. Morley Safer, just days after retiring from 60 Minutes, died at the age of 84 on May 19. He changed the way reporting is done forever, showing the US Marines burning Vietnamese villagers' huts. He then went on to become the greatest 60 Minutes correspondent. Finally, ISIS claimed responsibility for the horrific attacks in Baghdad on May 11. Three bombs killed 80 people and wounded hundreds more.
Halfway through the year, in June, Brock Turner, Stanford swimmer and convicted rapist, was sentenced to only six months in jail for sexually assaulting a woman back in January 2015. Millions were horrified at the lenience of the conviction. The next day it was announced that legendary boxer Muhammad Ali had died at the age of 74. Ali suffered from Parkinson's disease in his later years, and died due to respiratory problems. Less than a week later, legendary hockey player Gordie Howe died at the age of 88, taking two sports greats in short time. Later, in Florida, the worst mass shooting in modern US history struck an Orlando nightclub, killing 49 people and wounding over 50. Finally, the Cleveland Cavaliers captured their first ever NBA Finals by defeating the Golden State Warriors after being down 3-1 in the series. The win is highlighted as being the first professional sports title in Cleveland since 1964.
Max Jordan
Managing Editor
As spring became summer and the warmth of June slowly turned into a scorching July, the United States celebrated its 240th birthday as a nation. Around the country, Americans found it increasingly challenging to fight off the ever-ridiculous election campaign thanks in large part due to the overwhelming heat waves that plagued much of the West.
In Arizona, temperatures skyrocketed to a stunning 120 degrees toward the end of July. Across the country Americans of all varieties hoped to achieve some level of Internet fame by posting videos of themselves grilling meats and/or baking cookies on the hoods of their cars under the hot Phoenix sun. The July heat confirmed many people's worst suspicions as well: NASA noted that 2016 was the hottest year on record, a testament to the prevalence of global warming.
Global warming found itself center stage at both the Republican and Democratic national conventions, held in Cleveland and Philadelphia, respectively. Both candidates saw a need to address national security concerns with the rise of ISIS-inspired terrorist attacks around the world, such as the 2016 Nice attack, which left 87 dead in France after a man drove a truck in the town square while civilians celebrated Bastille Day. Holocaust survivor Elie Wiesel died at the age of 87, leaving behind a remarkable legacy. And it would be amoral to mention July without noting Pokémon Go, which took the world by storm and revealed who was stupid enough to attempt to cross a highway just to catch a Pidgey.
August was defined by the 2016 Summer Olympics in Rio de Janeiro. Michael Phelps won what seemed to be his 10 billionth gold medal and Ryan Lochte won the opportunity to participate in several interviews on NBC thanks to his conjuring of a massive lie that he was robbed at gunpoint, a story that slowly unwound until he eventually admitted his guilt, angering Al Roker quite prominently. Brazilian president Dilma Rousseff was impeached at long last for corruption, and the Olympics were symbolically opened by her successor, Michel Temer.
September was a period of renewal and rebirth. Summer became fall, and with it Governor Larry Hogan declared school must start after Labor Day to help the 10 or 20 people who actually live on the state's Eastern Shore. The 2016 NFL season began, which for the Cleveland Browns was nothing but a cruel joke. Commemorations for the 15th anniversary of the September 11 attacks were heavily overshadowed by Hillary Clinton's prominent bout of pneumonia resulting in her exit from the New York City memorial ceremony. Former Israeli president Shimon Peres died at 93 and North Korea continued to fool around by testing nuclear weapons in the Pacific Ocean…no big deal
October started with a bang. Well, technically it was just a tape. Trump came under fire for leaked audio from 2005 in which he bragged about what appeared like sexual assault to Billy Bush, soon removed from his job at NBC, when Trump was 59-years-old. Trump's response included the words "locker room talk" and "Bill Clinton" an indeterminable number of times. Bob Dylan won the Nobel Prize in Literature and thousands marched in the streets of South Korea calling for the resignation of Park Geun-hye, their first female president (who was impeached in December).
November, of course, was dominated by the election. Computer simulations gave Trump a negligible chance of winning, but, in a stunning upset, he bested Hillary Clinton, whose expertise in scandals—excuse me, I meant to say politics—did not prove strong enough for the people of Wisconsin…or Michigan…or Pennsylvania. For Republicans, November was a blessing. For Democrats, a curse. Don't worry Democrats, it's only four years.
November was also marked by deaths; former Attorney General Janet Reno died at 78 and journalist Gwen Ifill died at 61. On a different note, Cuban dictator Fidel Castro died at 90, leading to days of mourning in Cuba and joy in the United States. It also had one of the best moments of the year: the Chicago Cubs won their first World Series trophy since 1908 (which helped Chicagoans deal with the less-than-stellar season of the Chicago Bears, who finished 3-13 in case you were wondering).
December was quieter. Students counted down the days until break so they could see Rogue One to avoid family, the news was dominated by the sudden deaths of former astronaut and U.S. Senator John Glenn, actress Carrie Fisher and her actress mother Debbie Reynolds at the end, and, like that, an even year became an odd one (though 2016 was in itself quite odd).
The best that could be said for 2016 was that it gave talk show hosts a lot of great material. Here's to hoping 2017 isn't quite as trashy.
Matthew Klein
Features Editor