Back-to-school shopping: Needed or not?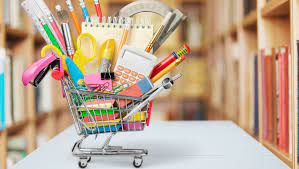 Back to school shopping in March is something we've never seen before in Montgomery County, but due to COVID-19, it is a completely different scenario to any other year we've seen. 
Since a year ago, on Mar. 13, 2020, students haven't entered school grounds for educational purposes, and Zoom meetings have become the norm for education, leaving supplies like backpacks and new clothes for school as somewhat obsolete. But now, with students going back to school, students and parents have decisions to make about whether or not they will be buying materials for their return. Will they be buying new pencils, backpacks, and clothes, or will they stick with the stuff they have from last year? Honors Physics teacher Suzanne Smedberg said, "My kids have all elected to stay home, because they are across three different schools, so we decided it would be best to keep safe at home rather than have us go to four different populations. I have been at school the last few weeks because it is all new to me. We went back-to-school shopping at the beginning of the year, but it was not about clothes and supplies, and it was more about technology and work stations. We had to buy computers and so many headsets."
 Even as you come back to school, you're going to be on your computer, and because classes is still virtual and we're not going to be using physical paper copies of materials. You're still not going to need notebooks and binders, since we're doing a largely paperless classroom. Sophomore Josh Erd doesn't plan to buy new materials at all, saying: "I plan on returning to in-person school and I'm going to just bring some pencils and a notebook, and probably my calculator for math. Throughout the school year that's pretty much all I have used," Erd said.
"
I don't think that the amount of work in the fourth quarter is worth buying all new supplies."
— Jack Parsons
 Because of the nature of online school and the dangers of shopping at stores in this past year, it has become common for students to "recycle" their resources, or to use the same backpacks, notebooks, pencils, and other school supplies that they used last year, rather than to buy new supplies for a year such as this one. Junior Jack Parsons felt similarly with regards to the lack of necessity to buy new school supplies, saying "I don't think that the amount of work in the fourth quarter is worth buying all new supplies. I think they would be wasted on eight classes a week. In addition, I am still using materials while working from home so the idea of buying new ones for in-person is not feasible." 
Leave a Comment
Your donation will support the student journalists of Thomas S. Wootton High School. Your contribution will allow us to purchase equipment and cover our annual website hosting costs.