QAnon supporter Majorie Taylor Greene stripped of Congressional committee roles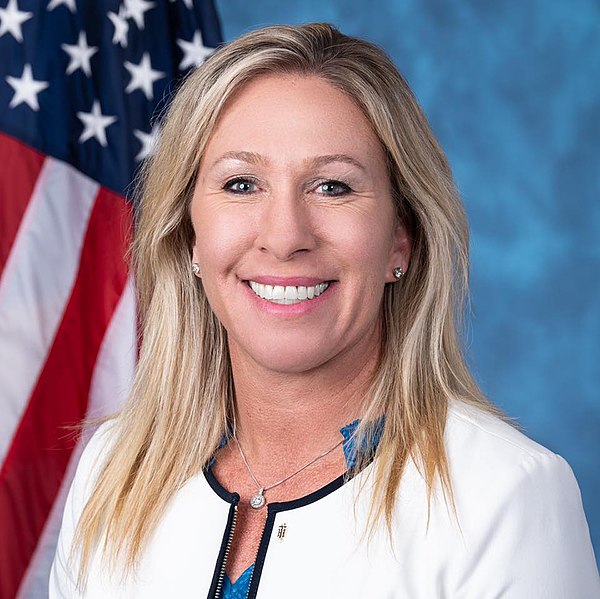 The name Marjorie Taylor Greene is immediately and undoubtedly recognizable in Washington politics nowadays. Definitely not for the right reasons, however.
Representative Greene, a Republican from Georgia's 14th Congressional district, has gained notoriety during the past few months, primarily due to her support and endorsement of far-right conspiracy theories, most notably QAnon, including a false narrative that former President Donald J Trump was leading a fight against a Satan worshipping "deep state" engaged in child sex trafficking and cannibalism, according to The New Yorker. In a deeply divided political climate, conspiracies like QAnon "skew a large group of people's views on reality to the point where they distance themselves from their loved ones," junior Joseph Kiriacos said.
Greene has been vocal about her support for such conspiracy theories for some time now, dating back to at least 2018, The New York Times reports. She openly questioned whether or not the events of Sept. 11. truly occurred, and suggested that California wildfires were started by "a laser beam from space controlled by a prominent Jewish banking family with connections to powerful Democrats," The New York Times reported. Additionally, she endorsed executing high profile Democratic lawmakers, including her now colleague and Speaker of the House Nancy Pelosi.
Junior Spencer Golub sees Greene's support for such conspiracies, and the fact that she holds public office, as disappointing. "I think having someone like Greene makes all of the House, the Republican Party and the 14th district of Georgia look bad as it shows that they accept someone with frivolous and erroneous beliefs," Golub said. "There's no place for that in our national government and it makes everyone responsible for her being there look bad."
Criticism on Greene has come from both the left and the right. A notable example includes Senate Minority Leader Mitch McConnell. "Loony lies and conspiracy theories are a cancer for the Republican Party and our country. Somebody who's suggested that perhaps no airplane hit the Pentagon on 9/11, that horrifying school shootings were pre-staged, and that the Clintons crashed JFK Jr.'s airplane is not living in reality," McConnell said in a statement shared with The Hill. It is notable to keep in mind that Greene was not mentioned by name in his statement.
In response to the House holding a vote to strip Greene of her house comittee assignments, Greene has walked back on some of her statements, such as those of her doubts of 9/11, while has awkwardly remained quiet on others such as her calls for the assassination of her boss and Speaker Pelosi.
"
Anyone who willingly spreads false information of any kind – especially info that can directly harm people – should not be in office where they can reach a large number of people instantaneously."
— Joseph Kiriacos
On Feb. 5, the House held this vote and passed the motion by 230-199, according to BBC. Originally assigned to the education and budget committees, Green will be limited in shaping policy because most legislation goes through committee review and votes before reaching the House floor. From one perspective, Kiriacos agrees with the motion. "Anyone who willingly spreads false information of any kind – especially info that can directly harm people – should not be in office where they can reach a large number of people instantaneously. I do not believe she should hold office or have a platform in the first place," Kiriacos said.
On the other hand, Golub expressed concern for removing Greene from her positions despite her statements. "I understand why she was removed, but I'm worried that it could set a dangerous precedent for removing someone simply due to their own beliefs, even though those beliefs are quite stupid. I think that as long as people vote her in she should be allowed to hold public office. If the American people are aware of her beliefs and still lawfully elect her, then we shouldn't interfere with that decision," Golub said.
Leave a Comment
Your donation will support the student journalists of Thomas S. Wootton High School. Your contribution will allow us to purchase equipment and cover our annual website hosting costs.
About the Contributor
Joaquin Moreno, staff writer emeritus



Joaquin Moreno is a 2022 graduate. When he's not writing articles, Joaquin enjoys playing on his viola, cooking and baking, and rooting for either...