Presidential election Leads to intense turmoil, results in Capitol riot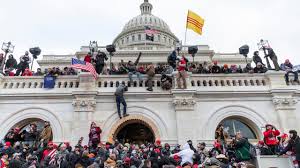 After the election of the 46th president of the United States, Joe Biden, ex-president Trump's supporters rioted and engaged in an armed attack on the Capitol, the first time the transfer of power from one president to another was covered in violence rather than peace.
On Jan. 6, rioters stormed the Capitol to try to protest and violently fight against Biden's victory, prompted by countless false allegations that the 2020 presidential election was fraudulent. The attacks on the Capitol resulted in five deaths and the severing of a precedent for peaceful transition of power, and the former president is much blamed for the irresponsibility in letting this event occur, resulting in him becoming the first president to ever be impeached twice.
About whether or not Trump is to blame, law teacher Alexander Parker said, "The Capitol, just looking at things factually, was the accumulation of years of enabling far-right extremists continued with, in the months before the election allowing for all this misinformation and searing doubts in Americans' minds that the election may not be secure, and when Trump lost, that insecurity was still in the minds of the people, and it all culminated on Jan. 6. The attacks happened because people genuinely thought that the election was fraudulent after a nonstop bombardment of lies. If the president conceded the election at any point, says 'hey, I lost,' and admits that the election was fair; if he says that at any point prior to Jan. 6, it's possible that the attacks on the Capitol don't happen. When the Framers were creating the idea behind impeachment, it was to hold the president accountable for high crimes and misdemeanors, and even though they cannot be criminally charged for their actions in office, they can be held accountable. It also prevents them from being able to be politically involved after committing a crime before leaving office. That's why people wanted Trump to be impeached again, not to remove him for two weeks or to make sure he cannot run again, but to create a precedent for a peaceful transition of power. It's the Senate's job to try, and the Framers didn't envision a two-party system, and in order to get a two-thirds majority, many people have to buy into it. If we were in a system like Canada or Germany where there are four or five parties, maybe the ruling would have been different."
"
I am disappointed it took Trump so many hours to send a message to the rioters that they should stop their actions and go home before the curfew.
— Christina Rice
AP Government Teacher Christina Rice had similar words to Parker, and said, "Sticking to the facts we know that President Trump contended the election results, with an unusually long time to confirm due to the pandemic. Typically, we have election results on election night. I remember staying up until 2 a.m. on election night in 2016. States are allowed to set their own election rules, which is what made it appear as if the election had been 'stolen' in some states. Republican candidates and the GOP generally encouraged voters to vote in person, whereas Democratic candidates and the Democratic Party encouraged mail in voting. States that started counting mail-in ballots before election day posted the mail in ballot results first, showing Biden in the lead in that state, but as in person votes came in and were counted, Trump won those states. In some states the state law says mail-in ballots could not be counted until election day, which is why it appeared Trump had won that state, only for Biden to take the lead as the mail-in ballots were processed. In September 2020, Trump began speaking publicly about how he was uncertain about whether he would peacefully transfer power if he lost the election and began speaking about the possibility of election fraud. In my opinion, what happened at the Capitol was many months of messaging that the results of the election may not be valid, going back as early as September 2020. I am disappointed it took Trump so many hours to send a message to the rioters that they should stop their actions and go home before the curfew. I do think Trump's possible involvement in incitement of an insurrection was worth investigating further, which is why we have this check on presidential power written into the Constitution. Since the House impeaches and the Senate holds the trial to determine conviction, I think the impeachment charges were valid and warranted further investigation by the Senate."
Leave a Comment
Your donation will support the student journalists of Thomas S. Wootton High School. Your contribution will allow us to purchase equipment and cover our annual website hosting costs.