Governor Larry Hogan speaks on upcoming year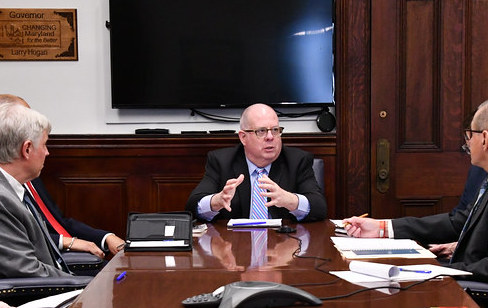 The State of the State Address is an annual report made by the governor of a state to their citizens. This speech is used to highlight their plans, goals and the past year's victories. This address is similar to that of the presidential State of the Union Address, which also occurs annually. Even though this event isn't as widely known as the State of the Union Address, it also lets citizens see what changes have been and will be put into effect in their community.
Governor Larry Hogan gave this address to Maryland and the rest of the nation Feb. 3 and recorded the speech for his constituents to watch on his Facebook feed. Senior Karan Naiknavare "[had] heard of the State of the Union Address, but was not familiar with the State of the State Address."
Hogan began his speech with the state's COVID response and by praising the efforts of his leadership and the adaptiveness of the Maryland population. He discussed the increase in hospital space, the personal protective equipment he got to our healthcare workers and plans for the vaccine. "Maryland has administered more than 570,000 vaccines," since his "last State of the State address," Hogan said.
Hogan also discussed the testing that has happened and what might happen in the months to come when dealing with vaccines. While Maryland has "conducted 7.1 million COVID-19 tests," the amount of vaccinations provided by the Federal government is still, "a tiny fraction of what we need," Hogan said.
"
We are hopeful that another promising vaccine candidate could be approved by the FDA and soon on the way to us—perhaps even in the coming weeks"
— Larry Hogan
However, hope for more vaccinations might come sooner than expected because, "we are hopeful that another promising vaccine candidate could be approved by the FDA and soon on the way to us—perhaps even in the coming weeks," Hogan said.
Hogan celebrated the heroes who have fought against the pandemic and have had to b adapt to new situations. He focused his point about heroes by mentioning the essential workers and medical professionals, as well as including anecdotes about teachers like Tina Baker, a special education teacher in Carroll County, who "has had the courage to provide in-person instruction since September," Hogan said.
Hogan elaborates the point of returning to schools as, "it is critical that we give our students the chance to get safely back into the classrooms," Hogan said.
Hogan said he has been in contact with Dr. Fauci and that the possibility of schools reopening safely is attainable with certain safety measures. This news affects students hoping for a "classic school experience," especially for those in their senior year of high school. "I think that the Maryland government pushing for us to go back to school in a safe way is positive, and can help many students in this difficult time," Naiknavare said.
The RELIEF Act of 2021 is a piece of legislation that provides tax breaks and funding to those who are struggling, including small businesses and retired residents. It was another key agenda item that was announced by Hogan. This billion dollar piece of legislation will provide funding to relatives, friends, and members of our wider community in need. For students with family members like Naiknavare's aunt and uncle who are retired in Maryland, this legislation can help "pay for food and help finance [their] housing costs because of their limited income," Naiknavare said.
From discussing vaccination plans to funding for tax relief and help, students and their communities are being affected by changes occurring at the state level. If you are interested in further learning about these state changes, the video of the State of the State Address can be found here and a transcript of what was said can be found here.
Leave a Comment
Your donation will support the student journalists of Thomas S. Wootton High School. Your contribution will allow us to purchase equipment and cover our annual website hosting costs.