Reviewing the only exclusively streamed NFL game this year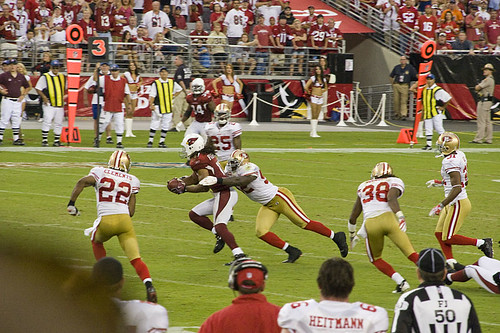 On week 16 of the NFL season, the Cardinals vs 49ers game was the lone game that was not televised. The only way to have watched the game was through Amazon Prime or Twitch, only the second time in NFL history that a streaming service has gotten exclusive rights to a game.
I had trouble viewing parts of the game with it freezing on occasion and indecipherable imagery shown on the screen. Millions of other people had the same issues as they showed their discontent on Twitter, Instagram and other social media apps. This was weird because mostly everything else I've watched on Twitch and Amazon Prime had no problems with connection or picture quality.
The game was enjoyable though as the San Francisco 49ers ended up upsetting the Arizona Cardinals 20-12 in a defensive matchup. The game was also held on a Saturday afternoon when there was no college football so I thought it was nice since that was a time where I wasn't busy doing anything else.
Later in the season, the Chicago Bears played the New Orleans Saints in a wild card round on Nickelodeon. This was the first ever game aired on Nickelodeon and racked up over two million viewers. The game was supposed to attract new viewers of the young generation with cartoons popping up on the screen, virtual slime in the endzones, childish commentating and elementary school references. As a teenage football fan, I wasn't the biggest fan of the game because it was too slow and childish for me, but I would've definitely loved to watch as a kid.
The Amazon Prime game was similar to the Nickelodeon game in that they both wanted to attract new viewers. With the popularity in streamed shows and movies growing, Amazon tried to pull in some regular Amazon Prime viewers to the game of football as it was advertised across the Amazon Prime home page. I think that Nickelodeon was more successful in doing this because younger kids are more inclined to choose a new hobby on their favorite channel than teenagers and adults.
Sophomore Peter Stanton Sheperd shared his complaints on the game, "The game on Amazon was very laggy and hard to watch."
The game was available on television if you lived in the local Phoenix area on FOX or if you lived in San Francisco on NBC. I think that they should have aired the game on the NFL Network as well just so anyone who didn't have Amazon Prime could watch it if they weren't from Phoenix or the Bay Area.
Leave a Comment
Your donation will support the student journalists of Thomas S. Wootton High School. Your contribution will allow us to purchase equipment and cover our annual website hosting costs.
About the Contributor
Justin Miller, staff writer
Justin Miller is in his 3rd and half year as a staff writer for Common Sense. He is a senior and is a backup goalie on varsity lacrosse. In his freetime,...