COVID-19 vaccine promises change for 2021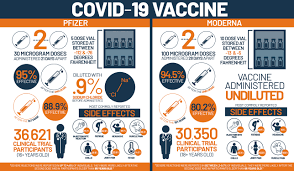 As the COVID-19 pandemic continues to take lives every day, vaccines are being developed and authorized. As the US hits 26 million cases, Moderna's vaccine has been authorized by the European Union, an example of a step forward in the world's fight against COVID-19. The two vaccines that have been most used are from Pfizer and Moderna. The Pfizer vaccine is authorized for those 16 and older, while Moderna's is exclusive to those 18 and older. Pfizer's vaccine has 95% efficacy, while Moderna shows 94.1% efficacy. Both vaccines require two doses, Pfizer's being 28 days apart, and Moderna's being 21 days apart.
The COVID-19 vaccine is expected not only to have an effect on the number of cases of COVID-19, but also on the changes in lifestyle we've seen over the last year. Tenth grade Administrator Nick Hitchens said "I think the vaccine will certainly help ease anxiety and allow people to feel a bit more comfortable with all the 'normal"'things we all used to do. But I think it will take a while for people to feel fully comfortable again. I do think there will be a return to normalcy, but I'm sure some things about the quarantine will stick. I have no idea when this will be, but I'm hopeful that it'd be maybe by 2022?"
Schools potentially reopening has been a controversial topic lately. Hitchens said, "If it were up to me, I would wait until things were absolutely safe for all students and staff to be in the building. I'd imagine that the vaccine would expedite that process, but it is really hard to give an exact date. I'd want to wait until all health metrics would be met."
Potential implications of the COVID-19 vaccine stretch to the future. Junior Jack Parsons said, "I think as soon as the vaccines get out, people will calm down and just stop. There is going to be more of an emphasis on staying healthy and washing hands. A lot of companies are going to realize that they won't need as much office space, because of how many people will be working online. I think the continued use of masks depends upon how widespread the virus is, but once everyone is safe, it's going to end up being about public opinion and how everyone's feeling."
Junior Ted Otengo feels similarly to Parsons, saying, "I think the COVID vaccine will be very vital in the fight against Corona and it will allow a good percentage of the public to go back to work and school regularly. We'll need to continue wearing masks for some time but it will make our generals' outings easier to manage."
Leave a Comment
Your donation will support the student journalists of Thomas S. Wootton High School. Your contribution will allow us to purchase equipment and cover our annual website hosting costs.