Science behind making, breaking habits offers help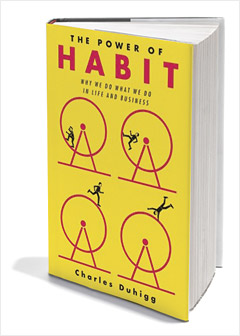 For some, forming good habits and eliminating bad ones is easy, but for others it's nearly impossible. This is because there is a scientific and psychological aspect to habit formation and destruction. According to NIH, "Habits are defined as actions that are triggered automatically in response to contextual cues that have been associated with their performance." 
Simply put, habits are actions you complete subconsciously. 
"
Length of time contributes to habit strength, so the longer you've done something, the stronger your habits.
— behaviorialscientist.org
When it comes to forming new habits, one must go through three phases- initiation, learning and stability. In the initiation phase, the new behavior and its context are chosen. In the learning phase, the behavior is repeated in the selected context to strengthen the association between the two. Finally, the habit is formed in the stability phase, and over time less and less conscious effort is required to carry out said habit. According to behaviorialscientist.org, "Length of time contributes to habit strength, so the longer you've done something, the stronger your habits."
National Public Radio further explains this process with the idea of a "habit loop," the psychological pattern that occurs when forming a new habit. This loop consists of the "cue," which tells your brain it is time to carry out the action, the "routine," which is the action itself, and the "reward," which gives you incentive to repeat the habit in the future. 
This might sound simple, but in reality, forming a new habit is easier said than done. It is important to select behaviors and contexts that will be easy to maintain because making drastic or unreasonable habit selection will likely result in failure to form said habit. Doctors at NIH encourage people to "aim for small and manageable behavior changes, because failure can be discouraging."
Habits and routines are desirable for a number of reasons. According to Psychology Today, "One likely reason people are creatures of habit is that habits are efficient: People can perform useful behaviors without wasting and energy deliberating about what to do."
This autonomy of habits can be both beneficial and detrimental. Psychology Today describes this issue, stating that "the fact that habits become deeply ingrained in our brains means that even if a particular habit creates more problems than it solves, it can be difficult to break."
Whether your bad habits are something as simple as spending too much time on your phone before bed or something as life threatening as smoking, time and effort is required to break them or replace them with a good habit. "Since habits take practice and repetition to form, the same is true when it comes to breaking them," according to Elliot Berkman, director of the University of Oregon's Social and Affective Neuroscience Lab. 
Charles Duhigg, author of The Power of Habit, gives advice on how to break bad habits. "Changing a habit while on vacation is one of the most successful ways to do it… because all your old cues and all your old rewards aren't there anymore," Duhigg said. 
Time Magazine also gives a tip on how to break habits: replace a bad habit with a good one, instead of just trying to get rid of the bad one. Forcing oneself to just "quit" whatever their bad habit is will likely backfire. According to Time.com, " A 2008 study in Appetite, found that those who suppressed their thoughts about eating chocolate exhibited a behavioral rebound effect, where they consumed significantly more chocolate than those who didn't."
There are numerous other possible ways to both form and break bad habits, but everyone is different, and it is important to find what works for you.
Leave a Comment
Your donation will support the student journalists of Thomas S. Wootton High School. Your contribution will allow us to purchase equipment and cover our annual website hosting costs.