Fracking: Oil companies' best friend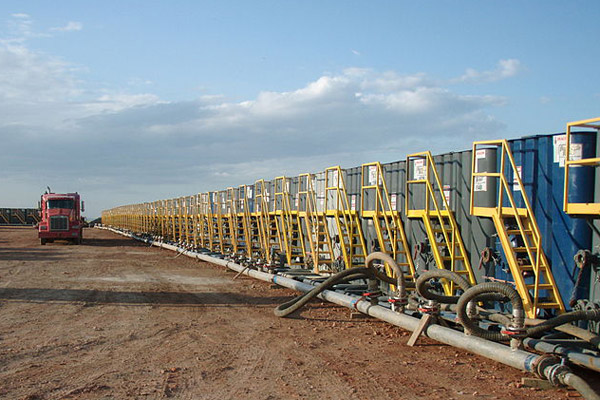 The use of hydraulic fracturing to extract oil and gas from the earth dates back to the 1940s, but only in the past few years has "fracking" become a buzzword, alluding primarily to the shale gas boom in the United States and its political relevance. 
Fracking is done by injecting high-pressure water, chemicals and sand into shale deposits to release the gas and oil trapped within the rock. In recent years, horizontal drilling and other improvements in technology have been made to harvest more gas and oil that previously were thought commercially unfeasible. Advocates insist it is a safe and economical source of clean energy. Critics, however, claim fracking can destroy drinking water supplies, pollute the air, contribute to the greenhouse gases that cause global warming and trigger earthquakes.
"
Without rigorous safety regulations, fracking can poison groundwater, pollute surface water, impair wild landscapes and threaten wildlife."
— Jon Mullen
However, fracking isn't a risk-free business. According to The Wilderness Society's Jon Mullen, "Without rigorous safety regulations, fracking can poison groundwater, pollute surface water, impair wild landscapes and threaten wildlife. If the oil or gas wells are not built sturdily enough, they can leak and contaminate groundwater. Flowback water can contaminate streams and water supplies."
Toxic fracking fluids, including known cancer-causing chemicals, are exempt from federal regulation under the Safe Drinking Water Act. According to National Geographic author Christina Nunez, the government isn't doing as much as they could. "The federal government also doesn't require that companies disclose what is in the fracking fluid – letting millions of gallons of toxic fluid into the ground on each drilling site without anyone but the drilling companies knowing what is in it," Nunez said. 
Senior Aashna Singh has made sure to keep an eye on the news when it comes to the environment and its subsequent politics. "I strongly dislike fracking, It makes me upset that in the past presidential race, the preservation of fracking was a major talking point. Biden was literally reassuring the moderate left that he wouldn't get rid of this economically beneficial practice that is so catastrophic to the environment," Singh said. 
Researchers from Duke University tested drinking water at 60 sites throughout Pennsylvania and New York. Their research was published in 2011 in the Proceedings of the National Academy of Sciences. The researchers found that drinking water near fracking wells had levels of methane. However, a federal study released in July 2014 by the DOE's National Energy Technology Laboratory, found no evidence that chemicals from the fracking process had contaminated groundwater at one Pennsylvania drilling site. Unfortunately though, fracking wells release compounds into the air, such as benzene and ethylbenzene. Long-term exposure to these has been linked to birth defects, neurological problems, blood disorders and cancer. 
Additionally, many areas of the United States not considered earthquake-prone, such as Ohio and Oklahoma, are now experiencing relatively strong seismic activity. Fracking is believed to be the cause of Oklahoma's strongest recorded quake in 2011 and more than 180 tremors in Texas between 2008 and 2009.