Death of loved ones sparks desire to be more cautious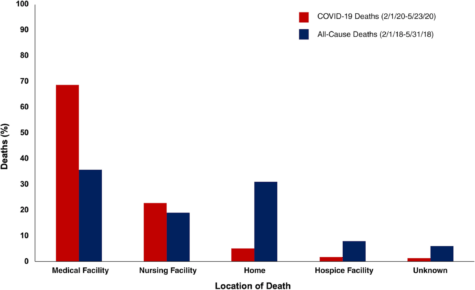 In a time like this, the country should be coming together as one, yet we are more divided than ever. Half of the country seems to be remaining cautious due to a sick loved one, and the other half is not. As a country, we need to pick up the "treat others the way you would want to be treated" motto that our parents taught us when we were young, in order to save lives.
In the above graphic, taken from the Journal of the American Geriatrics Society, it is shown that from Feb. 1 to May 23, 91% of all COVID-19 deaths occured in a medical facility or nursing home. The media has reported that many of these people died without having seen a visitor in their final few weeks, days or hours.
Due to COVID-19, hospitals are no longer allowing patients to have more than one visitor, while also strongly recommending that that visitor does not leave and return often. Those who are over 18 are often not permitted any visitors at all and nursing homes now allow outdoor visits or no visits at all. If someone has a sick loved one, it seems like the worst thing they can do is go visit them, so what are we supposed to do?
The pain of not being able to physically be there for someone when they are struggling is mentally draining and affects not only the sick, but also the healthy who just want to help. Unfortunately, students have had to face the direct consequences of COVID-19 within their family and friend circles, and with little to do to help, students feel helpless. "My cousin Jordana has PANS so she has been in and out of doctors offices getting her treatments which means I can't see her. Our family wants to make sure she knows that while we can't be there physically we are always supporting her so on PANS awareness day we had a surprise Zoom party for her and we all wore our PANS awareness shirts to celebrate and show how proud we are," senior Ella McGrath said.
Students who have a sick loved one have had to take government mandates to wear a mask and stay six feet apart extremely seriously, as we all should, but worry that those who aren't in the same situation are not being as careful. "I think that we all need to be cautious because while some families aren't affected at all, there are others truly struggling out there and the large gatherings are only prolonging everyone's pain," McGrath said.
"
Being mindful of the virus is almost even more important now because cases are increasing and winter is coming."
— Mikey Fellman
As a community, we should be urging and holding our friends and family accountable for their actions regarding COVID-19. "Staying socially distant from others is the most effective way to not spread COVID-19. Wearing a mask and other preventative methods like washing hands are extremely important when being distant becomes a problem, like the grocery store. Being mindful of the virus is almost even more important now because cases are increasing and winter is coming," senior Mikey Fellman said.
Leave a Comment
Your donation will support the student journalists of Thomas S. Wootton High School. Your contribution will allow us to purchase equipment and cover our annual website hosting costs.