Online Exclusive: On my block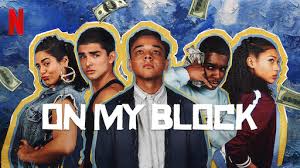 Ella Mcgrath, Staff Writer
March 12, 2020
The hit Netflix show On My Block came out with their third season on March 11. This popular show has an interesting premise and keeps the watcher on their toes. The show has four main characters who have been lifelong friends, Monse, Jamal, Cesar, and Ruby. Each one of the kids throughout the show struggle with personal issues all while trying to stay alive and stay friends.
Season one was an introduction into their lives and the new relationship between Monse and Cesar. The friend group dealt with some issues when having a couple amongst them, but overall they came together and formed a stronger bond than ever. In season one, Ruby's family takes in their distant relative Olivia. She became a part of the friend group and in the last episode develops a relationship with Ruby. The last episode of season one ended on a cliffhanger with Olivia and Ruby both being shot at her Quinceanera. A boy from Cesar's rival gang came in with intentions of killing Cesar, but Ruby and Olivia ended up shielding him and taking the bullet. "The ending of season one was intense and made the wait for season two feel longer than it actually was," junior Kyler Hamlin said.
Season two revealed that Olivia died that night, but Ruby is still alive. The season shows how each main character deals with her death and the guilt they feel. Ruby struggles with PTSD and anxiety from that night and tries to hide his emotions from both his friends and family. "Watching Ruby struggle with the death of his friend was devastating, I hope in season three that Ruby gets help and tries to resolve his issues," senior Madison Linn said.
Season two ended on an even larger cliffhanger than season three with Monse, Jamal, Cesar, and Ruby being abducted. Jamal, in season one, found money from an abandoned park, which made him a target. Cesar also is a part of gang and has been involved in crimes, making him a target as well. "I am excited for season three and ready to see where the main characters went," senior Mathew Kopsidas said.