Online Exclusive: Bayibamba brothers help the basketball team shine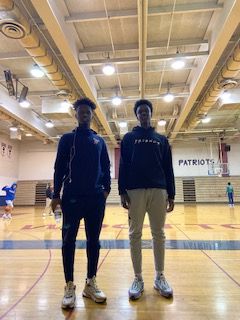 Senior Hubert Bayibamba and junior Normand Bayigamba transferred this past year from O'Connell High School in Virginia. Both brothers played basketball at O'Connell and are now both starting on the basketball team here.
The Bayigamba's had an easier transition than most people do. Both brothers went to Frost so they still had friends when returning. Also having your brother in the school makes things a lot easier. One difference between the two high schools they both agreed on is that there is more schoolwork here."We had kept in contact with our friends from middle school so it was easy to fit right in, but we get much more school work than what we are used to," Normand Bayigamba said.
Basketball has been a big part of the Bayigamba's life. Both brothers love the game and take every opportunity to play when they get the chance. Playing on the basketball team has given them the opportunity to make new friends and let them shine. Both brothers had a successful season on varsity and are part of the core group of the team's scorers. "I've been able to come closer with so many kids from the basketball team and I am getting much more playing time than what I am used to," Hubert Bayigamba said.
Hubert is undecided where he is going to end up next year for college but said he would like to walk-on to the basketball team wherever he ends up. Normand plans on being one of the leaders next year on the team. "I haven't decided yet where I want to end up for college but I definitely want to continue playing basketball wherever I go," Hubert Bayigamba said.
The transition here was easy on their family as well. The brothers would have to take a 45-minute trip by train just to get to O'connell and it was expensive. Now, they can take the bus to and from school and it makes it easier for their family members to come watch them play. Normand ended up getting injured with eight seconds left in the Patriots senior night game. Normand dislocated his shoulder and was carried off in a stretcher. His status is questionable to return to the playoffs.