Students, staff celebrate African American History Month throughout February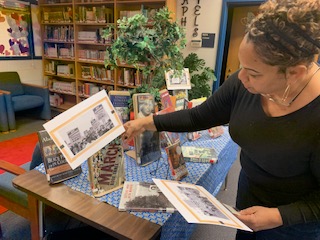 Taking place in February, Black History Month, also called African American History Month, showcases the achievements of African Americans and their contributions to American history. "It's a way to celebrate what makes Black people positively different and acknowledges the impact that Black people have on society today as well," junior Angel Sousani said.
The origin

According to the Library of Congress, Black History month originates from the Negro History Week, sponsored by the Association for the Study of African American Life and History in 1926, which was founded by Carter G. Woodson in 1915.
The second week of February, which was when Negro History Week took place, was purposely chosen by Woodson because it co-occurred with the birthdays of Frederick Douglas and President Abraham Lincoln, whose efforts helped to end slavery.
New Public Law 99-244

In 1975, President Gerald Ford encouraged the citizens of the United States to celebrate the efforts of African Americans and their work in the Civil Rights Movement throughout the entire month of February. What followed were similar presidential endorsements of the African American History Month. Finally, Public Law 99-244, passed by Congress in 1986, officially assigned February as the month for educational institutions in the United States to help students recognize and learn more about African American heroes of the past. Public Law 99-244 motivated President Ronald Reagan's declaration of February 1986 as being National Black (Afro-American) History Month. "I invite the Governors of the several states, and our schools, colleges, universities, and libraries, the stewards of our national consciousness, and all Americans to observe this month with appropriate activities to heighten awareness of black history and to stimulate continuing inquiry into this rich vein of the American experience," Reagan said in the Proclamation of 5443.
Senate Resolution 229

With the intent of honoring and showing respect for Black History month, the Senate passed Senate Resolution 229 in 1996. Since then, presidents, such as President Barack Obama, have used February to champion a specific theme that relates to the celebration of Black History in the United States. According to whitehouse.gov, the Proclamation on National African American History Month, 2020 issued by President Donald Trump on Jan. 3, designates this year's theme as "African Americans and the Vote." "[The theme] coincides with the 150th anniversary of the 15th Amendment, which gave African American men the right to vote," President Trump said in his Proclamation.
Different ways of celebrating

For years, people have been celebrating Black History Month in different ways. People use this month to take a trip to the National Museum of African American History and Culture in Washington, D.C., to learn more about the African diaspora. People also celebrate by reading works by African American authors or support African American businesses. For those who are looking for ways to celebrate, the naacp.org has created a "28 ways you can celebrate Black History this month" list to encourage support of the month.
Celebration in the schools

Media Specialist Tammie Burk uses the library space to showcase various celebrations throughout the year like Hispanic Heritage Month, Women's History Month, Chinese New Year, and Martin Luther King Jr. Day. The 29 days in February allow Burk to commemorate African American heroes of the past and present. The back windows of the library have taped shoe prints that lead students through paragraphs about the Civil Rights Movement that are supported by pictures of significant events of the time.
The book display tables scattered around the library exhibit books written by African Americans about African Americans. The window displays have books about current and past successful African Americans like President Barack and First Lady Michelle Obama. "I've tried to connect Black History Month decorations with Valentine's Day decorations by cutting printouts of African American authors' books in the shape of hearts and pasted them alongside the plain red and pink hearts around the library," Burk said.

According to Burk, throughout the month, a fact related to Black History is also given to be read in the morning announcements as another way to teach students about famous African American figures and how they have contributed to American history. "For the longest time this month wasn't celebrated in the United States. We want to take this moment to inform people about the struggles of those that have gone before us. This month makes me feel empowered because I am able to encourage students to learn about the heroes of the past," Burk said
Paying tribute

This school's Black Student Union (BSU) celebrates Black History Month by contributing to the annual Black History Month Program planned by the BSU leadership, which will take place this year on Feb. 27 and is open for everyone to come witness. The program pays tribute to prominent African American figures and brings the school community together in celebration of the students' diversity and culture. This year, the program will have poetry readings, speeches, dances, skits, and students will have an opportunity to showcase their art pieces in the standing display panels. "It is a great time for students to learn about African American History and to learn more about the heritage of their peers who are a part of the Black Student Union," Burk said.
Student performances and projects

Sousani will be performing an African dance that is reflective of her Ghanian roots at the Black History program. Sousani will be sharing the dance with people of different backgrounds. In the previous years, she has participated in the BSU Black History Program by portraying Michelle Obama and Condoleezza Rice. "I think it's important to celebrate Black History month as a reminder for not only Black people but for everyone that Black people have also contributed to America's history," Sousani said.

According to senior Ellie Baker, who will be co-hosting the program with senior Osagie Aimiuwu, the program isn't the only way the BSU celebrates Black History Month. "We're also going to have two more community service projects in February, [one of which will be] a food drive…last week we read stories about Black heroes to third graders at Fallsmead Elementary School," Baker said.

Although people use just this month specifically as an opportunity to learn more about soldiers of the Civil Rights Movement and African Americans who have made a significant impact in history, Baker celebrates Black history every day of the year. "As a Black person, Black history is my history, and I don't need a month to remember the accomplishments of Black people because I'm able to recognize them every day," Baker said.