Olympians had to start from somewhere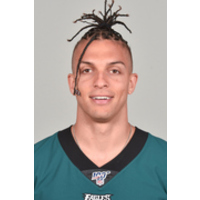 Demi Ellenbogen, Managing Editor
December 11, 2019
Over the years, graduates have gone on to be successful in myriad careers, giving us all something to strive for.

Haley Skarupa: Skarupa graduated in 2012, the same year she led silver medalist Team USA with 11 goals at the Under-18 World Championships in the Czech Republic. After high school, Skarupa took her talents to Boston College. In the 2015 National Women's Hockey League Draft, she was selected by the New York Riveters. Skarupa also played forward for the United States' women's ice hockey team at the 2018 Winter Olympics, where they won gold. "Haley and I got along well because we're both athletic and would always talk sports together. We stayed in contact after she graduated and it's always nice to talk to her," math teacher Tracey Seek said.

Mack Hollins: Hollins had no college football scholarship offers, leading him to attend Fork Union Military Academy. Hollins then got several offers to join teams, including a walk-on opportunity with University of North Carolina. He was accepted in 2012 and joined the team as a walk-on. As a junior in 2015, Hollins led all NCAA major college players with an average of 24.8 yards per reception. In the 2017 NFL draft, Hollins was selected by the Philadelphia Eagles in the fourth round. In 2018, Hollins and the Eagles won the Super Bowl. Hollins is known for coming to school dressed in a suit and carrying a briefcase. "He told me 'I'm dressing for success,'" substitute and former teacher Randy Alton said.

Timothy Hwang: Hwang graduated in 2010 and then attended Woodrow Wilson School of Public and International Affairs at Princeton University, where he played an active role in helping find the National Youth Association, a national youth lobby organization. He was later admitted to Harvard Business School. In the spring of 2013, Hwang launched FiscalNote, which at the time was a state legislative tracking service. The firm has grown to become one of the largest software employers in D.C.. Hwang is also an active philanthropist, "I can remember Tim being passionate about helping students throughout Montgomery County even as young as sophomore year. To see him working on FiscalNotes, making an impact at a national level warms my heart. He was a risk taker to promote advocacy early in the game," Alton said.

O.A.R.: Four of the bandmembers are alumni, Marc Roberge, Chris Culos, Richard On and Benj Gershman, and all attended Ohio State University where they met Jerry DePizzo. O.A.R., short for Of a Revolution, is a rock band that has released nine studio albums and is known for their live shows and extensive summer touring. O.A.R.'s most famous songs include "That Was a Crazy Game of Poker" and "Shattered."