Yi continues creating art through her own handmade card business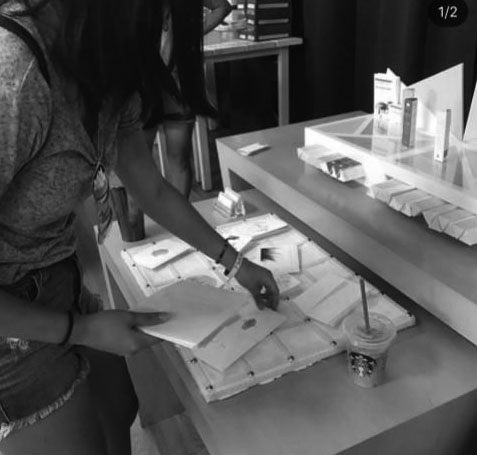 Maya Erd, Features Editor
October 11, 2019
Madelyn Yi is a junior who has loved art for as long as she can remember, even before elementary school. She incorporates her passion for art into different aspects of her life and she is an example of how people can still do what they love while going on with their daily lives.

Yi has a card making business where she designs cards for any occasion. She has been selling handmade cards since middle school and in eighth grade, she came up with her business called MadyPrints. With the help of her older sister Camryn and others, she was able to make MadyPrints a business. "Making cards is a way for me to follow my aesthetic in art, simplistic yet fun. I can do anything I want with my ideas and I'd still be able to turn it into a card," Yi said.

Yi sells cards to her friends. "I ordered a personalized card for Mother's Day from Madelyn and absolutely loved it. The process of giving her my order and paying was really easy and I got my card within a couple days of ordering it. I was beyond happy with the card itself too because it was so adorable and the fact that it was all handmade made it extra special. I would definitely recommend her business if you're looking for a cute unique card," junior Erin Chang said.

Camryn Yi is in charge of the business aspects but Yi puts her thoughts and creativity down onto the paper "Even though her businesses isn't Hallmark you can tell it's from a passionate place in her heart and her cards are made of high quality and it's a great way to support local entrepreneurs," junior Zara Chavoshi said.

She loves that she can do art in school. It makes her days better knowing she has art to look forward to. She is taking Advanced Placement art double period this year and she plans to take it again as a senior. Yi took art classes outside of school in elementary school, but since then she has taught herself or applied what she learns in school to her own work.

The Yi sisters use social media as a way to promote their business with the community. "Whenever we have an order that I'm proud of, we try to snap a photo and put it on our instagram page @madyprints. Both my sister and I try to share the photos whenever we can to promote the business," Yi said.

Not only does Yi create cards, but she does commissions, which are logos, tattoo designs and canvas orders. When Yi is not making cards and running her business with her sister, she is usually watching Netflix or hanging out with her friends.