Taiwanese dancers to perform, provide cultural experience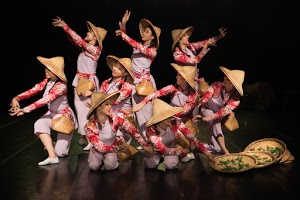 Joyce Wang, Staff Writer
May 28, 2019
The professional dancers from the National Taiwan University of Arts dance group, Da-Guan Theater will be performing to spread Taiwanese culture during Taiwaese American Heritage Week.
Da-Guan is coming to the school on May 18 to perform from 7:30 p.m. till 8:30 p.m.. The event is free for all students, teachers and parents, but a donation is optional. They require people who want to attend to sign up for a ticket on the website found on the school's webpage.
The night performance consists of 16 performers and two administrative assistants that help run the event. They will be performing 12 pieces: Mother Earth, Joyful Childhood, Seven Flowers, Leisure Time on Tea Mountain, Prayers to Heaven, Women's Power, Tung Flower, Lotus Flower, Blue Magpie, Breeze, Breaking the Cloud, and Impressions of Hills. "I think it's great that Wootton is having such an event for students because it's a rare opportunity to see a performance like this one and I'm looking forward to it," junior Sophia Xu said.
Each piece of dance expresses different cultures in Taiwan and altogether makes up Taiwanese culture using different props, costumes and techniques. One of their important piece is Leisure Time of Tea Mountain, which captures the essences of Taiwanese culture. In this performance they use common props such as bamboo lead heats, baskets and paper umbrellas to portray the diligent, industrious, simple and joyful nature of the Taiwanese traditional agricultural society.
The theme is the "Spectacular and Creative Dancing from Splendid Taiwan." Da-Guan Dance Theater was established in 2005 in the National Taiwan University of Arts department of dance. They incorporated artists from inside and outside the school by using multimedia, drama, music and fine arts to present their dance performance with the purpose of creating a new vision to dance arts. The group's main goal is to cultivate high-quality dance arts professionals.
The theater's presentation reaches a border of Taiwanese dance arts audiences and intends to strengthen the international cultural exchanges. Da-Guan's performances cross the gap between language, culture and ethnicity in order to integrate the essences of Eastern and Western cultures. Doing so, they are the leading trend of Taiwanese dance arts to achieve the international professional level.
From each international tour performance, through the visual banquet brought by the dancers, the audiences of the visited countries experience the beauty of dance arts and the Dance Theater is praised for their successful accomplishment in arts education. "Taiwanese culture is beautiful, where you can learn about their long history and experience their delicious food. I believe this performance by Da-Guan can visual persent Taiwan's culture," senior Megan Hsiung said.
They are being sponsored by Taiwanese Youth Arts Foundation (TYAF) and the Overseas Community Affairs Council (OCAC) to hold their tour for 2019 Taiwanese American Heritage Week and Asian Heritage Month in Canada. The theater was also assigned to deliver a tour performance: "Splendor of Taiwan", "Fantastic Taiwan 101" and "Memories of Taiwan" back in 2010, 2012 and 2017 so they already have prior international experience.