Antoinette Yanis takes pride in her role helping students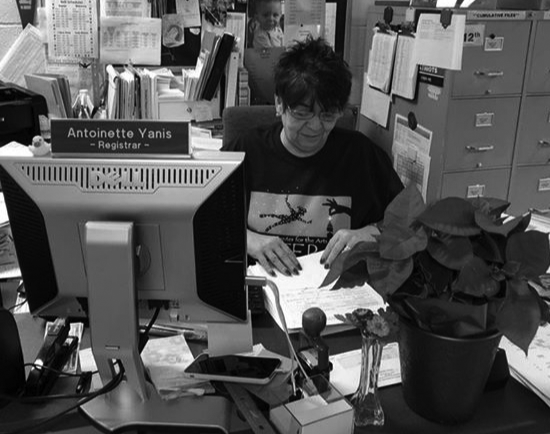 Jake Klugerman, Senior Profiles Editor
December 10, 2018
Every senior who applies to college needs to have their transcripts sent. If this isn't done, they can't be admitted to a school. One woman makes sure every single transcript is sent on time, while handling an abundance of other tasks. She is the school's registrar, Antoinette Yanis.

This is the only school Yanis has ever worked at. She started volunteering here, and then transitioned into a full-time position. "My husband moved jobs 17 years ago and that brought me to the area. I did not want to be a stay-at-home mom so I worked at Frost and Wootton where my kids were in school. Then a job opened up in the attendance office, which I took, and then I moved over to registrar," Yanis said.

While most students first see the work that Yanis does their senior year when they need their transcripts sent, Yanis does important work for students in all four grades. "I maintain the files for the students from ninth grade to twelfth grade. I handle all the cumulative and confidential files, as well as all the special ed files. Registrar also handles enrollments and withdrawals. I do grade changes and maintain the report cards, and handle paperwork that students need," Yanis said.

Yanis has no desire to work at another school because she sees this school as a special place that stands out. "The people here, the students here, and the atmosphere make this place special. The school is like a family and the kids work hard for the grades they get. My greatest pleasure is giving kids their diploma at the end of the year," Yanis said.

Most of the work that Yanis does is behind the scenes and she does not always get the recognition she deserves. Despite that, Yanis is proud that she has the opportunity to help the students reach their goals, even if they are unaware of all the important tasks she is doing. "I take a lot of pride in my work because I get to represent the students when they are applying to college or going to another school. I get to represent them and speak for them and that is a big deal to me," Yanis said.

Although many students do not ever meet Yanis or get to work with her one-on-one, those who do have that opportunity are grateful for her dedication, and understand how hard she works for the greater good of all the students. "I had a Naviance problem and I sat down with her and worked it out. I was grateful that she was able to help me out. She's always gotten things done quickly and efficiently, and I think she is an underrated member of this school," senior Matthew Winson said.