AP Econ, Child Development among courses with gender gap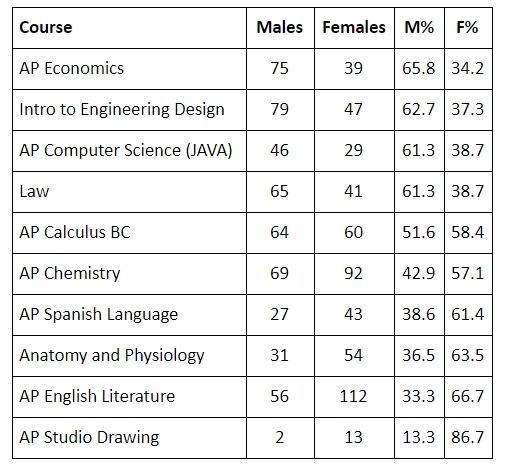 It's no secret that gender plays a role in what fields students pursue, even though it may be smaller than what it was a couple decades ago. At this school, the numbers show exactly how much gender influences course enrollment of various subjects.
AP Economics and Child Development have relatively the most male and female students, respectively. AP Economics has a 65.8 percent lean while Child Development has a 91.3 percent lean. AP Economics teacher Christopher McTamany suggests a reason for this is a lack of interest from women. "I think that just like a lot of engineering and things like that, it in part doesn't attract much interest from women and traditionally has been a men-oriented science and it's not something where they try to get women, I would say more insular in trying to keep them out," he said.
He also suggests that there is focus on getting women into STEM rather than economics. "In the past, there were programs specifically trying to get women into engineering. I don't know that there programs specifically to get women into economics," he said.
The historically male-dominated STEM courses are relatively proportional here. The greater disparity remains in career-oriented classes including Economics, Intro to Engineering Design and Child Development. There is a female lean in the Anatomy and Physiology class, possibly due to more encouragement for women in the field of medicine or the push for men in aforementioned fields.
The most heavily male class (AP Economics) is less male than the most heavily female class is female (Child Development). This seems to suggest that while girls have been encouraged to explore many different fields (and have done so) in addition to the traditionally feminine ones, boys have only stuck to traditionally masculine subjects like economics, engineering and computer science. Additionally, girls have not been encouraged to look into business or computer science as much as the core sciences or math.
What remains to be seen is whether this is due to a continuing stigma against men in historically female-dominated fields or more specifically due to a strong association between masculinity and outward actions. The opposite is also the case with women in historically male-dominated and traditionally masculine fields.
The Humanities and Arts Signature Program reflects this gender divide. "We definitely skew toward girls. What's funny is that AOIT has the opposite problem They definitely skew toward boys. So, it's a constant struggle," the program's coordinator Michelle Hanson said.
Hanson said that the historical reason behind humanities being female dominated is that it was perceived to be more feminine. "[Humanities] seems to be kind of a softer kind of approach and it's obviously ridiculous. Women can go into STEM and men can go into humanities," she said.
Hanson seeks out boys by talking to ninth grade social studies and English teachers to see who might be interested. "I can then invite to the program, and it's fairly successful. You know, some guys don't want to do that but, at the end of the day, if a teacher recommends them, some of them will go in [to H&A]," she said.
McTamany, on the other hand, does not have a direct approach to address the problem but is welcoming to any girls who would like to take AP Economics. "I don't try and get girls to take the class any more than guys. If they talk to me about it, I'll tell them what's up, but other than that I don't really try and get anyone to take or not take the course outside of just the usual advertising," he said.