School slides down in rankings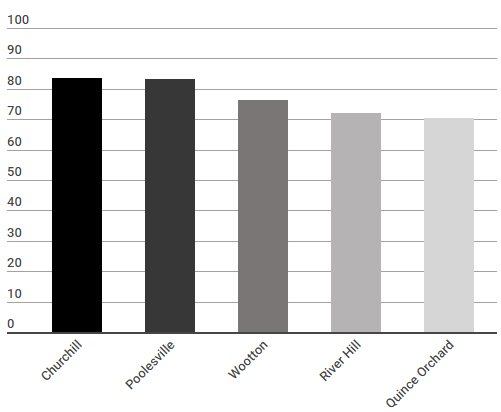 This school ranked third in the state and 168th in the nation last year for the best high schools according to U.S News, dropping from last year's rankings.
Last year, this school was ranked second in the state with a national ranking of 103, significantly improving from the previous year's rankings. This year the school dropped out of second in the state, falling behind Poolesville. Also this year's national ranking dropped behind 55 schools in the nation, earning this school's worst national ranking since 2010. "I'm glad that we're ranked third in the state, but I'm not excited that we dropped in the nation's rankings," junior Justin Nyguen said.
U.S News reported that they use a four-step process for deciding which high school is the best in the nation. The first step is based on how students compare in math and English compared to other students in the state. Then, they factor out the "economically disadvantaged students," to remove lower trending scores. If a school was above one-third of one standard deviation, they were considered for the next step for national rankings. Step two then factored in disadvantaged students and compared them to the state average. Step three required above a 75 percent graduation rate for national consideration. The final step is specific to college readiness, using data from AP tests of seniors exclusively. Both the number of AP tests taken and the scores for each test are taken into account as a final number out of 100 is compiled.
This school earned a 76.4 out of 100 for a college readiness index. The college readiness index is made up from the 52 percent mathematics proficiency and a 76 percent English proficiency, which this school received. These scores are relatively high compared to the rest of the district, as the rest of the district has a 18 percent mathematics proficiency and a 48 percent English proficiency. The system for college readiness index also bases their scoring on how a school does on AP exams, which allowed for this school to earn an above average ranking as the ranking relates back to AP scores, where this school had at least 82 percent of the senior class take one AP exam, with 90 percent passing the exam. "I'm proud that this school's mathematics proficiency is above average in the district but, I hope it can be better so we can be ranked first in the state one day," math teacher Christopher Tucker said. The system for college readiness index has raised concerns as students and teachers feel that the scoring used by U.S News does not accurately reflect which schools are the best in the nation. Their scoring system is often viewed as unfair considering that, "Maryland high schools are assessed in English Language Arts and math through the Partnership for Assessment of Readiness for College and Careers, or PARCC, exams," according to U.S News.
This statement from U.S News indicates how they use PARCC exams in determining a high school's college readiness index. As a result of a countless number of students admitting to not trying on these PARCC exams, this factor may be a skewed representation of ranking the nation's best high schools. "I didn't try on the PARCC exam so I don't believe that this is an accurate representation of which high schools are the best because they include irrelevant factors," sophomore Daniel Rudden said.