Students find creative ways to make junior banquet posters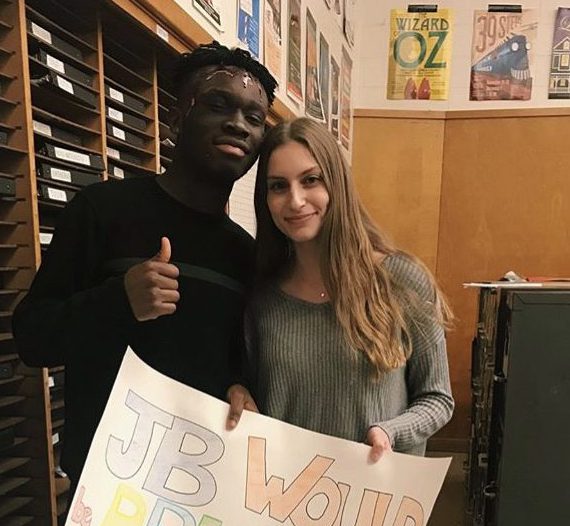 In just a few weeks, the class of 2019 will be attending their junior banquet. This event is different than homecoming in a few ways. For homecoming, typically the guys ask the girls, but junior banquet lets the girl put pen to paper, or glitter pens to poster board. This banquet is specifically for juniors, and is Sadie Hawkins style.
For popping the question, it is nice to get creative. There are different ways of doing a JB proposal. The most common method is making a poster. The idea is to make it unique, but it definitely depends on the pair of people going together.
No one wants a dull poster, so adding color with markers can make a poster go from boring to brilliant. Another way to make your poster stand out it to make it shine. Glitter makes the poster pop and especially helps when one word is used to stand out. Junior Kyra Goldstein has seen a few proposals and appreciates the one that are vibrant. "I think the best posters are the ones that are really colorful, different fonts and maybe some glitter," Goldstein said.
Other ways of making a poster catch one's eye is making it rhyme, or adding a funny pun. Junior Meredith Halperin enjoys seeing the different ways people come up with proposals. "My favorites are the ones that are clever, maybe with some puns or rhymes," Halperin said.
Different types of people go together to junior banquet. Some are couples, and in that case, getting personal is a great touch to add. Most of the time people tend to make them clever or funny, but there's nothing wrong with going the sentimental route.
If two people go as friends, there is room for some fun in the poster. If they play a sport, using that sport in the poster makes the recipient appreciate how well you know them. For example, if the person plays golf, the poster could say "It would be a hole in one if you went to JB with me."
Not all people play sports, but there's probably a hobby they enjoy that can be of use. Mix-matching the words together is also a way one can make the poster unique. Junior Noah Simon likes when the poster has to do with the person, not just a random saying. "It's great when they make it something specific to the person," Simon said.
Sometimes, people have a hard time coming up with JB proposals. There is no need to worry, as there are many resources one can make use of. There are different kinds of proposal accounts on Instagram that post the best posters and many of them are Sadie Hawkins style. Also, Pinterest has endless pictures of proposals that can be inspiring. It's also no harm to ask your friends: they may have great ideas you would have never thought of. The whole proposal process may seem difficult to some people, but the outcome will make it worth all the effort.
Hannah Shapiro
Features Editor