Directions to take spring break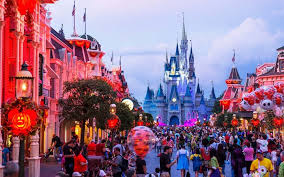 Vacation, all teachers ever wanted- Sarah Levine, Staff Writer
Spring break is a time to take a break and get away from the stress and workload that school puts on students…and teachers.
Students may believe that teachers are people with no outside lives or other responsibilities besides in the classroom. Teachers can have a good time on spring break too.
Nia Cresham, AP Government and Law teacher, along with being the tennis coach and head of the SGA, has a lot in store this spring break.
Cresham and her husband are moving houses during the beginning of the break. "We decided to move because our kids were out of the house and we had no need for some of the space in our old house," Cresham said.
After they finish the moving process to another house in the Wootton district, they're boarding a flight to Orlando. Cresham and her husband own a house right outside of Disney World. Along with their daughter, son and his girlfriend, Cresham and her husband are planning to relax at their house and spend time with their kids the rest of the break. "I can't wait to be able to take my mind off of work and spend time with my family before the kids go back to their own lives," Cresham said.
Disney World does seem like a great spring break for any teacher, or student. Although, there are numerous teachers who are staying at their homes with families while relaxing and prepping for the start of the fourth, and final quarter of the school year.
Math teacher Suzanne Pykosh is staying home and "re-energizing before the end of the third and start of the last quarter," Pykosh said.
Along with Pykosh, Michelle Hanson, English teacher and head of the Humanities and Arts program, also said she'll be spending spring break at home with her family. "My husband and I decided we just didn't feel like going away this year," Hanson said.
There could be many different reasons for teachers, as well as students for not going away during spring, or winter break. "I'm taking this time to have my lessons for the rest of the year all done so I can finish the year strong with my students," Pykosh said.
For Hanson, with the new AP Seminar classes for next year, she will need to be devoting some of her break to organizing and learning more about the addition to the Humanities and Arts program. "I am so excited for the new AP seminar classes starting next year. The class will definitely help and engage the students more into their writing and getting them ready for college," Hanson said.
Over spring break, all students and teachers will have different plans. Whether it's going to another country, somewhere else in the U.S., or just staying at home. With spring break, comes relaxation and a time to spend with friends and family.
Operation staycation- Josh Messitte, Managing Editor
For some, the upcoming spring break means vacations and travel. For others, our shortened spring break will be spent right here in the 301. Despite the negative connotation that goes hand in hand with 'staycation,' there are plenty of fun spring break activities and pastimes right here at home.
Our close proximity to the nation's capital makes it convenient to take part in D.C. events over the break. Since the massacre in Parkland, there have been marches and school walkouts. On the first day of spring break, there is going to be the biggest protest regarding gun-control yet. The 'March for Our Lives' will take place on March 24. What is truly special about this march is that it was organized by the students of Marjory Stoneman Douglas High School. Junior Zoe Weiss has a friend from camp who is a junior at Douglas. "My friend who goes to the school where the shooting took place is coming up and staying with me so her and her family can partake in the March for Our Lives," Weiss said.
One could also go straight from 'The March for Our Lives' to the DJ Khaled and Demi Lovato concert at the Capital One Arena.
Aside from Washington, there are plenty more local activities to fill spring break with.
Located close to school in Potomac, The Billy Goat Trail is one of the most popular hikes in the D.C area. With three separate trails and sections, The Billy Goat begin and end on the C&O canal. In terms of the right hike for different people, trail A is more rigorous and rocky while trail B is more casual. Sophomore Nate Gilkey loves to visit the Billy Goat Trail. "When it's nice outside, I like to get out of the house and the Billy Goat is an awesome place to go with friends," Gilkey said.
In Gaithersburg, the popular attraction Skyzone is a good spring break destination. Skyzone is a building pretty much made of trampolines. They host trampoline activities like ultimate dodgeball and skyslam– trampoline basketball. While Skyzone is a fun place to go with friends, it is important to be careful on the trampolines. Senior Noah Kaplan-Davis broke his leg while jumping. "I had no clue that trampolines could be so dangerous, so I was surprised when I came down in so much pain," Kaplan-Davis said.
Student destination vacations- Demi Ellenbogen, Staff Writer
Whether they are laying on the beach, skiing down black diamonds or sightseeing, spring break is eagerly anticipated by students and staff. After a long couple of months, they are finally able to take a break from homework, studying, and stress. While there is a surplus of vacation destinations, certain places are typically more visited than others.
Destinations gain popularity in various ways. People tend to visit places that are recommended by their friends, family or what they see advertised. Although some places are visited more often than others, they are not all similar. Favored vacation spots have several differences- adventurous versus relaxation, hot versus cold and near versus far.
Mexico is a popular destination for a relaxing break. With over 20,000 resorts, Mexico receives millions of tourists a year. According to Fox News, "Mexico welcomed record 35 million international tourists in 2016."
Sophomore Jessie Grinspoon spent winter break in Cabo San Lucas, Mexico. Cabo San Lucas is a highly recommended destination and its visitors love relaxing on the beautiful beaches. "My mom's friend told us how amazing Cabo was, and it definitely exceeded my expectations. It was so fun and relaxing, and we saw a lot of people we knew," Grinspoon said.
Disney World attracts hundreds of millions of visitors to Orlando every year. Orlando is a hot spot for action-packed family vacations. Theme-parks, roller coasters, and waterslides lure tourists to Orlando, however visitors can choose to skip out on these festivities and spend their vacation unwinding on the beaches. Families are often drawn to Orlando, as it is the perfect mix of relaxation and adventure.
For a more active trip, and to get a break from the warm weather, people escape to destinations such as Colorado and Utah. Colorado is an ideal vacation spot for winter sport enthusiasts, including skiing, snowboarding and tubing. Sophomore Bailey Goldstein goes skiing in Vail, Colorado every year. "Colorado is my favorite place to ski, and my family and I love it so much that we go multiple times a year," Goldstein said.
Junior Mason Kravitz also enjoys spending his breaks on the slopes. "Whether it's spring break or just a long weekend, I love escaping the heat and doing something active, especially snowboarding," Kravitz said.
College students often decide to study abroad in Europe, causing their families to visit them during spring break. Students visit their siblings in various areas in Europe, including Paris, Florence, Greece and Prague.
The Eiffel Tower, the Louvre, and Luxembourg Palace bring tourists from all around the world to Paris. Junior Flora Chen eagerly awaits her trip to Paris this spring break. "A bunch of people have told me how incredible Paris is, and I'm so excited to finally go," Chen said.