Q & A with womens' hockey gold medalist Haley Skarupa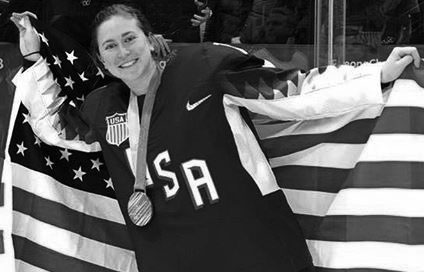 Common Sense spoke with Haley Skarupa about her experience in the Olympics.
How was the place you stayed/where did you stay?
We stayed in the Gangneung Olympic Village by the coast in 25 floor apartments. They were brand new and it was awesome.
What was your favorite memory at the Olympics?
My favorite memory was spotting my family in the stands from the ice after we won the gold medal during the celebration and waving to them.
What was the coolest thing you saw at the Olympics?
Coolest thing I saw there was when Martin Garrix performed at the closing ceremony… or the Russian cheerleaders during the Russia vs USA men's' hockey game. Or the North Korean cheering section.
How were the opening ceremonies?
Walking in the opening ceremonies was probably one of the coolest things I'll ever do in my life. It was unbelievable to walk with all of the US athletes and all the amazing athletes from around the world.
Did you get to know your teammates better from this experience?
My teammates and I have known each other forever. It seems and we are like a big family, but I definitely do feel this experience made us closer. Especially that we brought home the gold too.
Did you get good time out on the ice? Or would you have liked more?
I didn't get a lot of ice time, that really isn't my role. My role is more to create energy for the team whenever I am out there and to just work my hardest.
When you were out on the ice, did you have a sense of nervousness, or were you relaxed, and confident in yourself and your team?
Once you get your first shift in all the nerves sort of disappear. The games were such a blast. I could not believe I was competing in the Olympic Games!! I always have complete confidence in my team.
Where are you going to put the gold medal when you get home?
I want to show it to everyone who helped me get it and allow them to see how incredible it is. After that, I'll probably keep it somewhere very safe.
Jill Geline
Senior Sports Editor