Death of QO senior has county mourning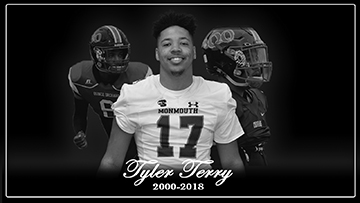 Tyler Terry, a 12th-grade varsity football player at Quince Orchard, died on Feb. 11, after suffering a cardiac arrest on Jan. 29.
According to the Montgomery County police, two rival teams agreed to meet up on the morning of Jan. 29 and engage in one-on-one fights at a local basketball court. Terry and an adult male were the first to fight, but after two to three minutes, Terry stopped and walked away, showing signs of tiredness. Police also say that two other fights broke out in the next five to 10 minutes, and that's when Terry collapsed.
Montgomery County investigators find that there was minimal physical contact and that Terry collapsed due to pre-existing found conditions. Terry was on life support for nearly two weeks when his family had to make the decision to remove him. "When Ty was in the hospital, his parents tried to raise money to keep him on life support. Soon, the whole school found out and tried to make enough money, but his parents decided to let him go," QO freshman Ella Rommel said.
Terry's death has made a large impact on the Quince Orchard community. Freshman Samantha Stillwell at QO felt a large change in her school's atmosphere after Terry's passing. "The school seemed gloomy after Ty passed away. You could feel the sadness and silence of everyone," Stillwell said.
School was especially difficult to students who knew Terry well. "I knew Ty because my brother was friends with him through football, and going class to class was hard because it felt like the school was dead when he left," Rommel said.
His death has touched students all over MCPS. Freshman Christina Jung hopes that his death will spread awareness and positivity among students. "I think Ty's passing makes MCPS realize how quickly a loved one can pass away, how precious someone's life is and that deaths of friends may be more common than it seems," Jung said.
A memorial and numerous other shrines were made to remember Terry. "Every morning we would have moments of silence for him. We would also wear red and have ribbons on our backpacks, and people would also use chalk to write and draw on the brick walls for him outside. Our principal also had therapy lessons for the kids if they wanted or needed it, and in homeroom we talked about asking for help and to love the people that we're close to," Rommel said.
A vigil for Terry was held on Feb. 20, where coaching staff, students and family members took turns sharing their memories and stories about Terry. Candles were lit to symbolize the light the senior had shined on their lives. Balloons were also released in the air to the sound of everyone chanting "Fly High Ty." The online hashtag, #FLYHIGHTY, has also been trending among students to honor Terry on Twitter, Facebook, Instagram, and Snapchat.
Terry had committed to Monmouth University in New Jersey to play college football before he died.
Christina Liu
Staff Writer