Midnight Madness excites, exceeds expectations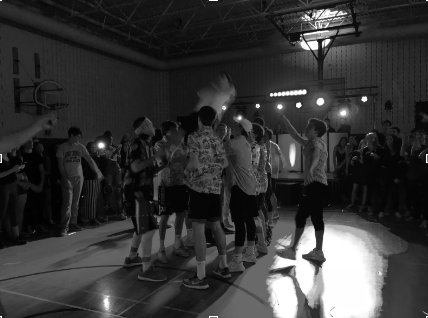 Last Friday, the Student Government Association (SGA) sponsored its first Midnight Madness dance to help raise money for A Wider Circle, which is an organization that helps families that are in poverty get back on their feet. It was held in the school's lower gym, featuring rising DJ Ryan Amir, with special guests including Soundcloud artist Graham Bright as well as the renowned male dance team, the Woottonettes.
Due to their controversial performance at the first pep rally this year, the Woottonettes were not able to perform at POTH, but made their big comeback at Midnight Madness. The team practiced long and hard for this event because they were expecting an enormous crowd, " Every person in the crowd went absolutely wild when they came out and since they didn't dance at POTH, the team was especially excited for Friday night's performance," sophomore and co-choreographer Haley Scheinberg said.
Along with the Woottonettes and Amir, Bright was one of the main attractions for the dance. Bright is known best for his five singles on Spotify and his popular Soundcloud song, "De$igner Feelings," also featuring two other students, Elijah Trent and Nashon Plummer. Bright also released his newest single, "New Addiction" in the middle of December. "It was so fun and exciting to go and see Graham perform live in person because it was just like going to a concert only it was at school with my friends," sophomore Tati Arnaiz said.
Doors opened at 9 p.m. on Friday night as students flooded the lower gym dressed from head to toe in black, as the previously announced theme for the night was "blackout or back out." Since it was the first time school had held an event like this, no one knew what to expect. But it ended up being more successful than anyone thought it would. At the start of the party, things were a little bit slow and not everyone was dancing. The Woottonettes were scheduled to perform toward the end of the night, but because of quick thinking, they were introduced much earlier, which hyped up the crowd a lot. After their performance, the dance floor was totally packed with dancing students.
It clearly ended up being a great night for everyone who was involved or attended, but obviously there will be a few things they need to be altered for next year. This includes either changing the name from "Midnight Madness" to something more fitting, or extending the time it ends, because it only went until 11:30. Overall it was a cool and fun experience especially because it was new and different from any school events I've been to in the past, as well as because it was going out and having a good time, knowing all the money would be donated to a great cause like A Wider Circle.
Emily Eichberg
Commons Editor