Pitch Perfect 3 receives mixed reviews after release in theatres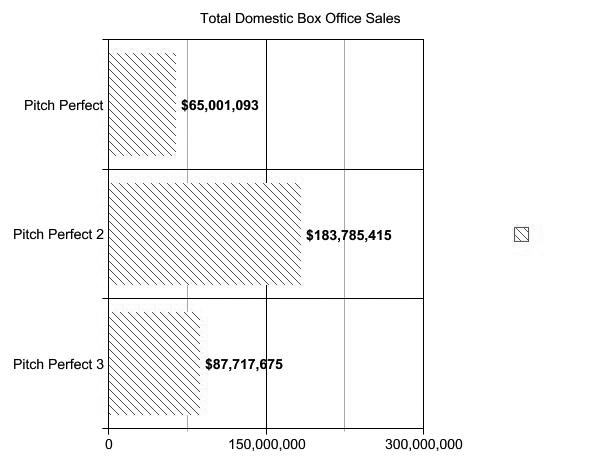 Warning, spoilers ahead.
The third movie of the Pitch Perfect series was released on Dec. 22. Most of the cast made reappearances for the movie, except for three of the main male roles: Jesse, Benji, and Bumper (played by Skylar Astin, Ben Platt, and Adam DeVine).
After winning the world championship competition in Pitch Perfect 2, the Bellas are back. The Bellas have now decided they want to sing together one last time. "I was extremely excited to see this movie, but in the end it was a total let down in my opinion," disappointed senior Nisha Ramamurthy said.
The former Bellas go to watch the new Bellas perform, when they originally thought they were being invited back to sing. The former Bellas quickly learn that they were just asked to come watch, and they begin to reflect on their current jobs and how they are not happy. The Bellas decide to bring along current Bella Emily, played by Hailee Steinfeld, to join them as the perform one last time for the USO overseas competition. DJ Khaled also makes a special appearance, as he selects the winner of the USO tour to open for him on his world tour.
While this movie features a plethora of new characters, a drawback to the number of new additions would be the lack of character development. It would have been better if instead of focusing on creating new plots for the characters they introduced, they could have added to the existing character's stories. The movie does not have much have a plot. It keeps jumping back and forth between Fat Amy (played by Rebel Wilson) trying to form a better relationship with her father (played by John Lithgow) and the USO competition.
The story did not make much sense and is not as funny as the other two. "I really disliked Pitch Perfect 3. I thought the movie was hard to follow and there was no real plot to the movie. I am glad this was the last movie in the series because I did not like it that much to begin with," senior Gabi Menconi said,
While the other two movies of the series were hysterical and new, this third movie feels like it is an unneeded sequel. This said, it is always refreshing to watch a movie with strong female leads. With all the sexual allegations that have been brought to light lately women empowerment is important. Overall, the movie has more flaws in it than things worth praising. "I actually really liked the first two movies, and I still liked the third movie, but it was not as good as the first two,. It was not a work of a cinematic masterpiece, but it was a super cute movie," freshman Jamie Stern said.
Rachel Berman
Staff Writer