Lil Uzi Vert sells out at The Anthem, students trek to DC to see him perform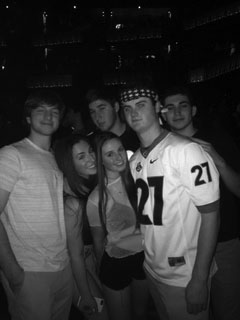 Twenty-year-old rapper Lil Uzi Vert performed his newly released album Luv is Rage 2 in front of a crowd of 6,000 fans on Dec. 15.
The show took place at a recently opened music venue in DC called The Anthem. The venue consists of a big empty space with a dance floor and DJ booth, allowing the audience to be close together as well as close to the performer. "I thought that The Anthem was extremely nice. Although throughout the concert it got very hot in there, I would definitely go again. It is also located in a great location," senior Gabi Menconi said.
Music producer Austin Millz and rapper Lil Skies started off the show with a bang by singing and playing remixes to well-known rap songs. The energy that these opening stars brought to the stage resulted in the audience becoming fired up for Uzi's upcoming performance. "I think these performers did a good job opening up the show since they played some of my favorite songs. I just thought they were on for a little too long, it was a longer wait for Lil Uzi to come on than I expected," senior Trent Folk said.
When Lil Uzi Vert stepped onto the stage, the crowd went wild. He started off his concert by singing one of the biggest hits of his new album, Pretty Mami, and then continued to perform more of his newest songs including The Way Life Goes, Malfunction, XO Tour Life, Neon Guts, Two and Sauce It Up. He also performed some of his older songs from previous albums, such as 7am, Money Longer, Ps & Qs, and a slow version of You Was Right. All these popular songs got the crowd extremely hype, and some even had the opportunity to get to the front row. Students had the opportunity to get to the front row."My friends and I got to the front row while Uzi was out on stage and it was amazing. He is my favorite artist, so hearing him sing my favorite songs while he was right in front of me was amazing," senior Allison Geringer said.
I was able to get to the front row as well, and it was a truly memorable experience. Sice it was extremely hot in the venue, there were staff working who were surrounding the crowd giving out free water bottles. The staff also sprayed water out onto the crowd while they were standing on the stage so the fans weren't so sweaty and hot. I don't think any ordinary vanue would do this, in which I was extremely thrilled with what The Anthem had to offer.
Overall, the concert was a success. Lil Uzi Vert impressed the crowd with his unique dance moves, stellar vocals and ability to get everyone up and jumping on their feet throughout his performance. "I was thinking about not going but I decided to last minute, and I'm so glad I made the decision to go. Tickets were pretty expensive, but it was so much fun and I hope he comes again to the area next year to perform," Folk said.
Jordyn Taylor
Senior Features Editor