Ice Hockey: Pasternak dishes out midseason titles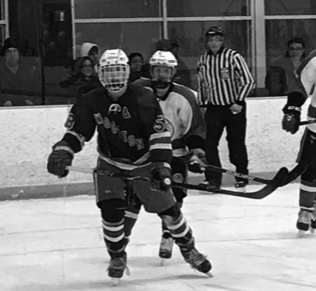 After ten games the hockey team has an 8-2 record. The season is two thirds over, with 10 games played, and five games left. They are in the playoff race this year, and barring any unsurprising play, they should secure a top two seed in the division. They had no games between Dec. 9 and Jan. 4 because the game on Dec. 15 was forfeited by Churchill 2, so the team has been able to heal their injuries.
On Jan. 5 they played and beat Walter Johnson. It was a relatively easy win ending 5-2. Junior John Billingsley returned to the lineup after a long absence and got scoring started in the first period with a goal off a pass from sophomore Scotty Collinson. Sophomore Graham Blondes had his second goal of the season to go up 2-0 in the first on as assist from junior Jake Smith.
Billingsley had two more goals in the second to go up 4-0, one of them assisted by Smith. Whitman scored at the end of the second, and another in the third to make it 4-2.
Soon after Billingsley sniped one into the top left to make it 5-2 , ending his comeback with four goals. Freshman Riley Jordan had another stellar game in net, only allowing two goals all game.
Here are team awards two thirds through the season.
MVP and Offensive Player of the Year: junior forward Hunter Band. Last year's First Team All Division and First Team All League selection has continued his strong play this year. He has nine goals and seven assists in nine games and has provided strong offensive play in each game. In the first game of the season, a 3-2 win over WJ, he scored or assisted all three of the goals. In the 3-2 victory over BCC he added two more assists, making large contributions in both close wins. One or both of these awards could be going to Billingsley, but he has only played four games thus far.
Defensive Player of the Year: senior defenseman Zack Lechner. The team's defensive play has been just average this year. But without Lechner, it would be much worse. The fourth year varsity player has not missed a game, even though he has had to fight through a wrist injury. He has nine points so far, but provides more defensively than he does offensively. "We lost a lot of seniors last year that played defense for multiple years on varsity, but there have been lots of younger guys stepping up in their absence," Lechner said.
Rookie of the Year: freshman goalie Riley Jordan. Jordan started the season on the bench, but played quickly after sophomore Colin Brick became concussed. He played the entire game and held BCC to two goals in the 3-2 win earlier in the season. Although he let in five of the six goals to Churchill, he still made big saves and a lot of the goals were due to Churchill's large volume of shots on goal.
Most Improved Player: senior forward Ethan Heiberger. The fourth year varsity player started off his career strong, before taking a step back in his junior season. He has bounced back this year with two goals and two assists in four games. He missed five games due to being sick recently, but was just cleared to come back, and the Blair game was his first one back. "I think I made lots of progress in my play this year, and I hope to quickly shake off the rust from being sick and not playing for over a month," Heiberger said.
The game on Jan. 12 against Blair was too late to be covered in this issue.
Max Pasternak
Senior News Editor