Holiday movies bring winter spirit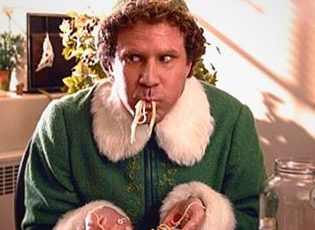 If you're not in the holiday spirit yet, there's no better cure for that than a classic holiday movie to put you in the mood. It's winter time, and nothing is better than to hiding out from the cold than being inside watching a holiday movie with a cup of cocoa. While nothing can beat the classics, new holiday themed movies come out every year that more than hold their own. From a bitter santa, to a man-child sized elf, what are the best holiday movies?
Elf is a perfect modern holiday movie. Will Ferrell's genius role as a human baby raised in the North Pole who travels to New York to find his birth father is as close to cinema's best clear-cut elf performance as we'll perhaps ever get. The movie has a massive amount of good-natured spirit that it is impossible not to feel as sparklejollytwinklejingley as Buddy the Elf. During Christmas time "my favorite movie to watch is Elf. I love Will Ferrell and most of the movies he stars in," junior Roy Ke said.
The Home Alone movies are more than just a sum of booby traps for burglars. The forgotten kid from a big family who matches wits with a pair of bungling burglars when they try to steal from his house is an endlessly satisfying revenge fantasy. The movie is filled with joy and holiday spirit that will make you want to "Woof!" "My favorite holiday themed movie is Home Alone. It's funny watching the little kid bully on the two grown men who try to rob his family," senior Danny Rubinstein said.
The Nightmare Before Christmas will surely put you in the holiday spirit. The delightful masterpiece of stop-motion animation centers on what happens when the King of Halloween Jack Skellington, decides he'll take over for Santa one year. It turns out that's not such a great idea. With its parade of adorable ghouls and a sweet love story at its center, The Nightmare Before Christmas remains the feel-good adventure movie to watch during the holidays. "What is not to like about The Nightmare Before Christmas. It's one of my favorite holiday movies of all time," freshman Skylar Rothman said.
The favorite or most hated holiday movie of all time is How the Grinch Stole Christmas. Ron Howard's live-action Dr. Seuss adaptation uses Jim Carrey for silly theatrics to its advantage, giving an already iconic, humorous character a whole new life. That, combined with an endearingly corny soundtrack featuring Christmas-themed songs, is the perfect holiday film. And who doesn't like the Grinch's big smile? "The Grinch is my man. One of the best holiday movies out there is the Grinch," sophomore Arian Nyanjo said.
Aaron Strauss
Staff Writer