Band wins 'Best Music' at Nationals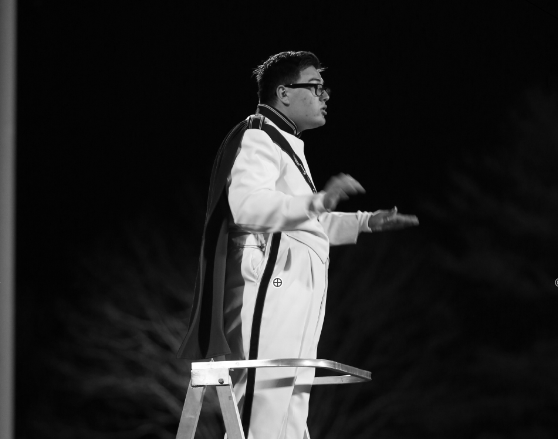 The marching band takes its place on the stage in Allentown, PA. It's Nov. 5, the national championship is coming to an end and the marching band has one more shot to prove themselves.
Senior Luke Russell comes out leading the band with powerful conducting skills. Finally, the performance comes to an end and the crowd erupts cheering for the band. They did not win but they came in a close second by just .13 of a point. "They did a great job, the kids worked so hard and they focused in practice, which is what's going to help them perform well," band director Carolyn Herman said.
The band has been marching competitively for three years and this season, out of six USBands competitions, they placed first in five and second in one. The band devoted a large amount of hard work and time to their music, lead by drum major and conductor Russell. "Our squad has [Russell] to thank for our wins this year," senior Sean Lin said.
They practice for two and a half hours two times per week. They also have to drive to events that can be hours away for competitions. The season starts in June and ends in November. In addition to the practice throughout the season, members attend a two-week band camp that teaches them the basics of marching band. "Music is learned and memorized. Members spend a large amount of time on practice," Russell said.
The community loves the marching band because they always have a huge amount of spirit. The students enjoy when the marching band comes on at halftime because the music and skits that they put on keep the crowd entertained. "I love being able to watch marching band at halftime because it is really good," sophomore Daniel Rudden said.
The band often sits in the stands during football games and plays music when the team scores a touchdown. Fans enjoy the live music instead of the speakers blaring poor quality music. "I really enjoy watching the band. They're quite great this year," senior Stephen Hechler said.
The community would love to see marching band perform as someone scores a goal in ice hockey or in lacrosse. "I wish the Wootton marching band would perform all year at all kinds of Wootton sporting events," sophomore Ben Bloch said.
Dennis Child
Opinion Editor