Coffee not your cup of tea?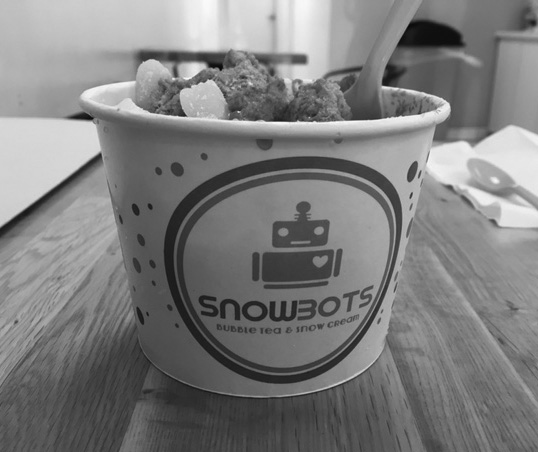 College and high school students sit on couches with cups of milk tea and bowls of shaved ice that look and taste like fluffy snowflakes. They laugh while playing board games and completing homework.
If this scene doesn't ring a bell, prepare to enter a whole new world of food possibilities and Starbucks alternatives that have been in your backyard this whole time.
Snowbots
The scene above refers to a small bubble tea and SnowCream (a fluffy, melt-in-your-mouth version of regular shaved ice) store on Rockville Pike. This quirky store is a hidden gem, nestled in a small plaza by REI and Rollins Park apartments.
The Snowbots menu includes everything from matcha green tea to puffles, which their website describes as "ice cream wrapped in Hong Kong style waffle."
Snowbots also offers a variety of toppings, so customers can customize their drinks, SnowCream and puffles. Toppings include boba (chewy tapioca pearls), pudding, different flavors of fruit jelly, brownies, Oreos, vanilla wafers, M&M's, Frutti pebbles and many others.
According to their website, Snowbots was established in 2014 by a group of friends who moved from Monterey Park, CA, to Rockville and wanted to bring "a taste of home" to Rockville. SnowCream originated from Taiwan and is what they describe as "a concoction that fits between regular shaved ice and ice cream."
Kung Fu Tea
For those seeking another place to hang out, try Kung Fu Tea on North Washington Street in Rockville. Kung Fu Tea has more seating than Snowbots and is a hybrid between a tea shop and cafe.
Kung Fu Tea sells everything from more traditional green and black tea blends to slushies and milk drinks. Kung Fu also has a variety of toppings to choose from that customers can add to their drinks, including tapioca pearls, jelly and red bean. Kung Fu Tea is popular with students. "I love Kung Fu Tea," junior Fatima Bouzid said. "I'm trying to try every single flavor on the menu."
A more unique option that Kung Fu offers is the ability to adjust ice and sugar levels to fit each customer's taste. One can request no sugar, 30 percent sugar, 50 percent sugar, 70 percent sugar or 100 percent sugar. For ice levels one can get less ice, little ice, no ice or request a warm drink. Students enjoy going to Kung Fu to hang out with friends. "[Kung Fu Tea is] the best place to have fun with friends and drink unique and tasty drinks," junior Eva Kolb said.
Those addicted to coffee need not fear–Kung Fu Tea also sells coffee and coffee blends too, so one can ease into the tea trend at their own pace. Kung Fu Tea's headquarters are in New York and also has stores in Taiwan, Southeast Asia, China and other areas in North America.
Just a word of caution- if you want to try Kung Fu Tea, try not to go on the weekends as there is often a line out the door.
Tea-Do
Tea-Do, a "contemporary tea house" on Rockville Pike is another option for students who want a place other than Starbucks to hang out and order pick-me-up drinks. Tea-Do has long rectangular table seating, as well as two-person seating, making it an optimal place to hang out with friends. Tea-Do is also a quieter shop, so those looking for a chill place to study might find Tea-Do more suitable that Kung Fu Tea.
Unlike other tea shops, Tea-Do offers light snacks in addition to bubble tea, smoothies, aloe vera tea and specialty drinks, including the Tropical Twister, which is a combination of mango, pineapple, passion fruit and lychee jelly. Snacks include edamame, fried fish balls, seaweed salad, shrimp tempura, avocado and other similar foods.
They also offer light desserts such as chocolate cake, cream brûlée with berries, coconut ripieno, mango ripieno, egg pudding, mango jelly, chocolate/green tea/vanilla gelato, mango/coconut sorbet and green tea/strawberry/mango mochi (a Japanese rice cake dessert with ice cream in the middle).
Ten Ren Tea
Ten Ren Tea in Wintergreen Plaza on Rockville Pike is a more traditional tea store that is well-known in Asia and has been around for over 40 years. Ten Ren has two stores in Maryland; one in Wintergreen Plaza, and one by the University of Maryland College Park campus. The store by College Park also offers light tea snacks as well as full meals.
Ten Ren sells tea, milk tea and tea blends. They also have several topping options including tapioca pearls and jelly. Ten Ren imports tea from their main stores in Taiwan, which includes anything from diet tea to traditional genmaicha green tea. However, Ten Ren is a more traditional shop and does not offer seating.
In addition, they import traditional Taiwanese snacks for Chinese holidays, including tea cakes for the mid-autumn moon festival. Ten Ren is also a great place to look for tea and ginseng gifts, as they sell different types of ginseng (at the Rockville store), traditional tea sets, cold brew tea, loose leaf tea and tea gift sets.
Jumbo Jumbo Cafe
Jumbo Jumbo Cafe offers tea, milk tea and smoothies, as well as topping options, of course. What sets this store apart are the classic Taiwanese snacks they offer, including Taiwanese fried chicken with basil, fried tofu, beef noodle soup and various rice combinations.Jumbo Jumbo has a location on Rockville Pike called Bubble Express. They also have a location in Germantown and on Frederick Road. Although all the stores are pretty much the same, they all have different names (ie. Bubble Express vs. Asia Taste), so be sure to look up the store online using the name "Jumbo Jumbo" and find the nearest store from there.
So many options can be overwhelming, but don't be intimidated. The next time you are craving a drink or some ice cream to cool down during the next summer heat wave, consider trying some SnowCream and bubble tea– you won't regret it.
Rachel Wei
Features Editor