JV Boys Basketball: Leaders moved up to play with varsity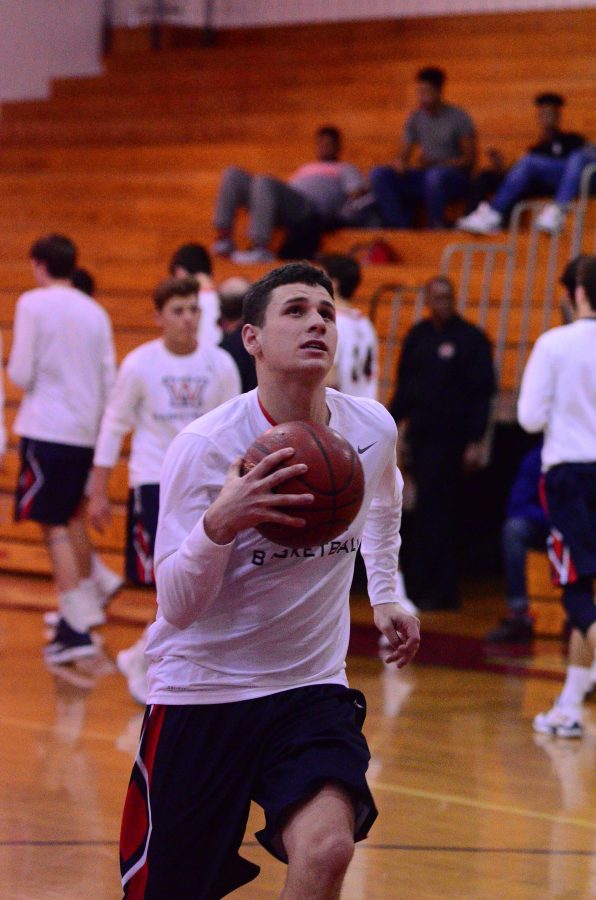 Joe Pohoryles
February 22, 2018
After a great home win against Clarksburg, the Patriots looked to ride the momentum into their next two road games against Northwest on Jan. 10 and Richard Montgomery on Jan. 12.
First they took on Northwest, in a tightly contested game the whole way through. With the game on the line, Northwest hit a shot with 20 seconds left, which ended up being the decider as the Patriots fell 53-52.
"It was a tough road loss, but we need to keep our heads up and move on," freshman forward Ryan Feldman said.
That's exactly what they did, winning their next three games against RM, Springbrook on Jan. 16 and Gaithersburg on Jan. 19 by a combined score of 54 points. With the three wins their record improved to 7-5 on the season.
"Since the beginning of the season we knew we could be a good team, and now it's finally translating to the court," sophomore forward Edward Dolan said.
Next they were set to play RM for the second time in 10 days on Jan. 23. Early on, it looked as if RM was going to run away with the game. Late in the first quarter they held an early lead of 20-6. Momentum never shifted before the halftime break as the Rockets led 30-18. As the second half began, the Patriots were in desperate need for a run of their own.
Led by their two starting guards, sophomore Jack Moskowitz and freshman Miller Romm, the Patriots came out of the half fast, opening up the third quarter on a 12-2 run. As the third quarter came to an end, the Patriots found themselves right back in the game, with the score at 40-36. Toward the end of the game the Patriots were down by two with just over a minute left.
Trying to lift his team to their fourth straight win, Romm pulled up for a jumper, but, it fell short and the Patriots dropped to 7-6 on the season.
"We need to be better down the stretch in those close games," freshman guard Thomas Jezek said.
After the tough loss, the team continued to stumble, losing their next two games on the road, against Wheaton on Jan. 26, and Clarksburg on Jan. 29. As the Patriots season was coming to an end, they looked to end on a high note in their last game against Quince Orchard. Moskowitz lead the way with 15 points, as the Patriots ended their shaky season with a close 61-59 win at home.
Since the varsity basketball team still had six games remaining in their season schedule until playoffs, five JV players were brought up to varsity. That includes Moskowitz, Dolan, Feldman, sophomore forward Will Agen, and freshman guard Jacob Kravitz.
"It's an honor to move up to varsity, it's a dedication to all of the hard work that has finally paid off for me," Agen said.
Jack Rothenberg
Staff Writer