Former student follows his dreams, becomes famous film producer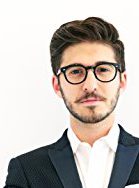 We all have dreams. Everyone has that one thing that they think about obsessively and long for extensively, but either life gets in the way, or weak work ethic prohibits us from fully realizing our aspirations. Occasionally, someone with the right balance of talent, work ethic and vision will come around and bring their dreams to reality. Once upon a time, the vision of prominence in the film industry battered around Eric Fleishman's brain as he walked through the hallways here. Now, he no longer dreams about it, he lives it.
Fleishman has taken his place among O.A.R. and Mack Hollins as one of the most famous alumni to come out of this school. After graduating with the class of 2008, he has gone on to become a successful producer in the Hollywood entertainment industry, producing 2016 Sundance Festival hits Carnage Park and Sleight. These two inclusions to the festival made him the youngest producer ever to premiere two feature films at the festival in a single year, a feat that put him on the metaphorical map of the Hollywood world. He resultantly solidified a spot in the Forbes 30 under 30 list for 2018, where his name is right alongside celebrities such as rapper Lil Uzi Vert and athlete Julio Jones.
Other movies he has produced include Get the Girl, Recovery, The Remains, and Opening Night, all of which were produced in 2016 as well. His next film is Flower, which will come out on Mar. 16. Including the ones that he has produced, he is credited in 23 films total. While he has especially focused on crime/ thriller / horror films, he has also come out with a few drama films, showcasing his versatility as a producer. He is still building up his trophy case, and so far he can claim a nomination for Best Feature for his movie Opening Night at the Cincinnati Film Festival.
His accomplishments have served as inspiration to current students here. "It is so cool to see someone who started out at the same spot we are all at now achieving so much. He is really inspiring because his success reinforces that we are all on a track towards big things at this school," senior Justin Slud said.
When he was here, there were already signs of greatness. English teacher and Humanities and Arts director Michelle Hanson gushed about his well-mannered disposition and creative outlook. While at this school Fleischman was a part of the Humanities and Arts Program, and as a result was tasked with completing the famed SIP that still culminates students' H&A experiences today. Hanson told about how he chose the topic of gangster movies, showing a passion for cinema early. His zest for his topic, as well as his overall creativity, was even evident in the attire he chose for his SIP presentation. "He came to his SIP panel wearing pinstripes and spats," Hanson said.
In addition to all of his cinematic achievements, he also has a flare for art, and is a fan of Andy Warhol. As can be seen on his Instagram page (@ericbfleischman), the walls of his house are coated with the colorful oblique paintings that give each room a creative, artsy vibe to match the qualities of his mind.

Peter Hechler
Managing Editor