Cross Country: Future looks bright for young runners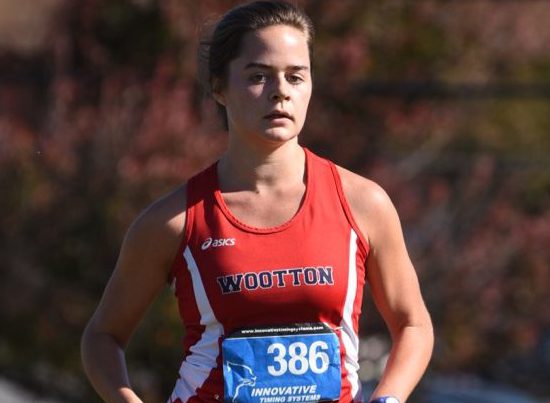 It was a melancholic day at Hereford High School on Nov. 11. The seniors were about to lace up for the final time of their high school careers. Their four years of hard work and determination came down to one final race: the MPSSAA 4A State Championships.
The Patriots competed against 22 other teams all fighting for first place. The boys' team finished in sixth place and the girls' team finished in third. The boys were led by senior Mitchell Fanger, who finished 27th with a time of 16:57.44. Junior John Riker finished in 39th place with a time of 17:17.15 and junior Richard Qiao finished in 43rd with a time of 17:20.86. The boys' ran as a team despite having no top 25 finisher. "Since no boys were in the top 25, I'm proud the boys managed to get top six," senior Amir Van Gieson.
Junior Timothy Jiang finished 60th place with a time of 17:31.51 and junior Joseph Pohoryles finished in 68th place with a time of 17:38.59. Junior Meehir Bhalla finished in 79th place with a time of 17:48.86 and Van Gieson finished in 121st place with a time of 18:52.84
The girls were led by junior Jessica Trzeciak who finished eighth with a time of 19:37.60. Junior Adna Trakic finished 15th with a time of 19:54.90 and sophomore Alyssa D'Arpa finished in 25th place with a time of 20:29.90. The girls' team finished off their successful season with a strong finish at states.
Junior Erin Chelf finished in 32nd with a time of 20:39.50 and junior Madeline Grainger finished in 49th place with a time of 21:03.30. Senior Emma Henderson finished 53rd with a time of 21:09.50 and sophomore Anna Baldwin finished 60th with a time of 21:14.10.
Both the boys' and the girls' teams had seasons to be proud of and ran well at counties. "We had great performances from top to bottom and our most successful county meet ever," coach Kellie Redmond said.
For the boys, five of the top seven runners this season are juniors with the other two being seniors. For the girls' team, six of the top seven runners will return next year, with four juniors, two sophomores and one senior. "I have faith Wootton's boys and girls will be some of the best in the state next year," Van Gieson said.
Next year, the team will look to go one step further get first place at states.
Ryan Ullman
Senior Sports Editor