JV Field Hockey: High scoring offense finishes season on high note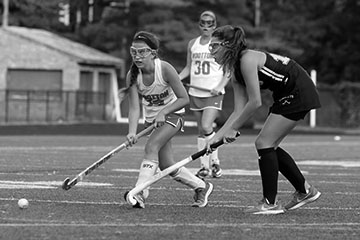 In his 2006 song "Hustlin'," famous rapper Rick Ross said, "Everyday [JV field hockey] hustlin' hustle, hustlin' hustlin' hustle, hustlin' hustlin' hustle, hustlin' hustlin'."
No, not actually, but it would be an accurate description of the Patriots' season. With a total of six wins, two ties, and only one loss, the team was certainly "hustlin'" throughout the season and especially in their last three games.
On Oct. 4 the Patriots went head to head against the Churchill Bulldogs. A heated rivalry game, both teams craving the win, the fans in the bleachers couldn't help but wonder who will come out on top? Even after a double overtime the teams tied at 0-0 since junior varsity teams don't partake in penalty strokes.
Though the game wasn't dominated by one team, both the Patriots and the Bulldogs had reasonable scoring opportunities that weren't capitalized on. "I think we put up a good fight but I wish we could've won. It felt like a really evenly matched game," freshman Maya Erd said.
Throughout the game, the team didn't let up in their intensity or their positive attitudes. The Patriots continued to push themselves and work hard even as the last few seconds of the game grew near. "I think we definitely tried our hardest and played really well," freshman Quinn Lugenbeel said.
On Oct. 6, the Patriots played Northwood at home. Both Northwood and the Patriot's fans came out with their own personal chants, creating a buzzing atmosphere. By the time the final whistle sounded, the team was able to secure an 8-0 shutout.
In the last game of the season, they played Quince Orchard on a grass field. In 1944, when the allied forces gained a victory in Normandy, France, that day became known as D-Day. However, since Oct. 11 is when the Patriots gained a 1-0 victory in the Cougar Dome, that day shall henceforth be known as "Dub-Day."
The team had attempts on goal and sophomore Monica Godnick was able to score the game-winner. The team didn't get their perfect record but they are happy to have ended the season on a high note, and varsity is proud of them as well. "I'm really proud of JV. They killed it. I think their winning streaks were because of their high motivation and intensity to win," varsity defender Margaret Christovich said.
Now that the season is over, the team looks to next year. The team already has clinics and play-days set up for the spring and summer. "We are going to work hard in the offseason so I feel good about next season and think we will do well," Lugenbeel said.
Chloe Perel
News Editor