Field Hockey: Team struggles with consistency during season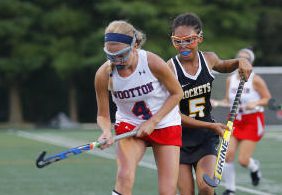 The season has not gone ideally for the Patriots. After finishing their opening five games at a 2-5 clip, it has been more of the same for a team that just can't seem to get in rhythm.
Coming off a win against Poolesville on Sept. 29, the squad hoped to string together another win to create what would be their first win streak of the season. They headed to Churchill to play the Bulldogs on Oct. 4, and were met by a tough team with a stout defense that proved tough to score against. The squad fought hard until the final whistle, but the opponent shut them out while scoring three goals to send the Pats home with a 3-0 loss to forget. "Churchill has a great team and this was a tough loss" senior Amanda Jordan said.
With their record sitting at 2-6, a weaker team may have given up. No matter how many losses a team takes, the season is not over until the final game is played. After getting outplayed by Churchill, the team had to get back on their feet to play Northwest just two days later on Oct. 6. They knew they needed to have a big game, and to say they came out with a fury would be an understatement. Goals came easy and often for a side that showed no quit in them. The Patriots won a 7-0 game in which it never seemed like the opponent even had a chance. Juniors Chloe Perel and Carli Mangum and seniors Allison Geringer, Jordyn Taylor and Gabi Menconi all scored in the game, with Perel and Geringer each netting two. "This was the best game we played all year so far. We were all proud of our performance and I think this game shows what this team is capable of," senior Alyssa Robinson said.
The good times didn't last long for the team, as the inconsistency that has plagued them all year came back to haunt them on Oct.11 in the rain at Quince Orchard. The away atmosphere and the rain did not help matters, and the game turned into a hard fought defensive battle, with both teams playing evenly through most of the game. The only goal of the match came from QO on a corner; the deciding factor in a game defined by defense. "The rain had a huge impact on the game. The conditions made play sloppy and it was really hard to score for both teams. We definitely could have won this game, but the rain made it too difficult," Robinson said.
The next game on their slate had a clearer forecast and a brighter result. On Oct. 16 the Patriot's played Gaithersburg in the cold and caught the win 3-0. Goals were scored by Taylor, Menconi and sophomore Kendall Clark, and senior Julia Stern had two assists. Their record after this game was at 4-7.
Their next game, and last game of the regular season, was on Oct. 18 against Magruder, too late to be covered in this issue.
Peter Hechler
Managing Editor