Track team excited for future of program after impressive postseason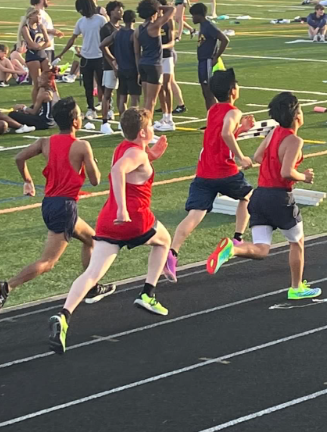 For the track and field team, the postseason meets were even more exciting than the regular season, and that is saying a lot due to how historic those races were. Counties and Regionals brought to the forefront final great performances for seniors and promising races from the best runners of the team, who represent the future of the track program
Those who competed in the County A championship on May 9 and 10, showed why this team is one of the best. Head Coach Kellie Redmond has coached in a while and one that will continue to dominate for years to come even as they move to the 3A division for the 2023-24 season.
Both the County A championship and Regional finals were held at Seneca Valley while the County B championship was held at Einstein.
Coach Redmond put her best foot forward with the distance crew during the postseason while Sprinters Head Coach Mo Drammeh had his best group of sprinters at his disposal.
At County A, junior Victoria Ketzler and freshman Charlotte Chang both finished in the top 10 in the girls 800 with times of 2:19 and 2:23 respectively. Ketzler led in the girls mile as well (5:08), along with senior Maya Gottesman who ran her season best 5:29. Gottesman followed that up with another season best in the girls 2-mile with a 11:37 while sophomore Aanya Tiwari ran her own season best at 12:55. The highlight of the two days of County A for the girls' distance team was their second place finish in the 4×8 relay, highlighted by a 9:40 performance from Chang, junior Meilani Rodgers, Ketzler, and senior Rebecca Vasconez. As for the sprinters, the leaders were freshman Jaide Williams (13.37 100), freshman Isabella Caban (28.99, 200), and junior Aaliyah Jalloh (1:00.53, 400).
Junior Troy Bailey was coming off injury but still gutted out a 2:13 800. Arguably the best one-two sophomore punch in Edward Sun and Rendon Yerman dominated the boys' mile with 4:39 and 4:40 personal records respectively. Sun and Yerman both followed those races up with 9:56 and 10:02 2 mile runs respectively. The always changing roster of the boys 4×8 team placed 15th (8:39) in a competitive and closely contested heat. The sprinter leaders were junior Paul Gbebry (11.62 100), sophomore Nate Dates (23.93, 200), and freshman Grant Mcgraw (54.13, 400).
The County B championships made everyone in the region fear for what may come next in this program from its brightest young stars. For many on the team, this was their last meet of the season, so the coaching staff was expecting big things. And big things there were.
Girls 800: freshman Anaika Mehta (2:51) and senior Julianne Yao (2:54)
Girls mile: freshman Sophia Missoi (6:24) and junior Leia Castro (6:30)
Girls 100: sophomore Caitlin Doherty placed 5th (13.6)
Girls 200: freshman Leah Ajisafe (29.2)
Girls 400: freshman Simrik Mahata (1:08.6)
Top Jumper / Thrower: Anaika Mehta (79'2 discus) & sophomore Elizabeth Griffin (13'7 LJ)
Boys 800: sophomore Ricardo Gomez Vera (2:15) and junior Nick Wang (2:24)
Boys mile: freshman Luke Gabrielle (4:54) and sophomore Ellis Eppard (5:02)
Boys 2 mile: freshman Owen Berman (11:55)
Boys 100: junior Yassine Idrissa placed 9th the in Boys 100 (11.7)
Boys 200: sophomore Ifeoluwa Adeleye (24.9) and freshman Kai Yuzuki (24.9)
Boys 400: sophomore Kenneth Shen (55.5) and sophomore Evan Bush (56.9)
Top Jumper / Thrower: senior Myles Reyes (109.2 discus) and junior Victor Poosuntisumpun (20'0 LJ)
Regionals marked the culmination of all these performances, and the last chance to qualify for states. Everything was on the line. Edward Sun (4:40) Rendon Yerman (4:42) and Ellis Eppard (4:59) all showed why they are the premiere sophomore trio of the future and senior Maya Gottesman (11:37) completed her last great race of her illustrious four-year high school running career while Victoria Ketzler (5:01) proved why she is worthy of being named a top 10 distance runner in the state.
Overall the postseason was a success for all who participated. It was filled with emotional farewells from seniors and promising performances that proved that no other team in MOCO seems to be better set for the future than the Patriots.
Leave a Comment
Your donation will support the student journalists of Thomas S. Wootton High School. Your contribution will allow us to purchase equipment and cover our annual website hosting costs.
About the Contributor
Owen Lomotan, staff writer


Owen Lomotan is a senior staff writer who covers Patriots Cross Country and Track. When not writing for Common Sense, he enjoys spending time with...