Third time's the charm: Creed 3 funny, entertaining throughout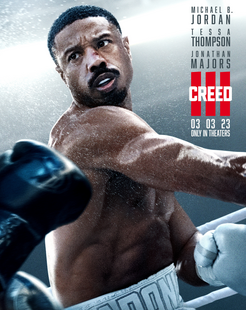 My reaction to Creed 3: Action packed, funny, and non stop entertainment.
Even better than the first two, Creed 3 stars Michael B. Jordan as Adonis Creed, and surpassed even my wildest expectations as one of the best movies I have seen so far this year. The constant action, humorous scenes, and fabulous storyline kept me entertained and excited throughout the movie.
Adonis, better known as "Donnie," Creed is a boxer, and world champion. He has made millions of dollars and has a wonderful life married to aspiring musician Brianna Taylor Creed. However, in Creed 3, Donnie's life takes a turn. His former childhood friend Damian had just completed an 18-year prison sentence. Damian, who, like Creed, grew up as a boxing prodigy, had his career derailed when he assaulted a man outside a local convenience store. Damian feels robbed of his potential career and eager to prove he deserves a chance in the ring to become a champion.
Creed, who runs into Damian at a local hardware store reluctantly agrees to help Damian get his life back on track through sparring practice at his gym. At this point. Creed is now dealing with the health of his ailing mother Mary-Anne who had helped mold him into the person he is today and trying to help his former childhood friend Damian resume his career in the boxing ring.
As time goes on, Creed is able to help set Damian up for his first official boxing match against Felix Chavez who is a well-known and respected fighter Creed is familiar with. Damian, who had never fought in a professional match before, defeats Chavez with his aggressive and sometimes dirty style of play. Due to his victory, Damian is now the world champion and he no longer appreciates Creed for his help. He admits to Creed that he only used him to help get a shot at the world title.
Due to this betrayal, Creed decides to end his retirement and begin preparation for a heavyweight title fight against Damian. While training and restarting his career, the saddest moment of the movie occurs when Creed's mother has a stroke and passes away while in conversation with him. This chain of events leads Creed to rehash the memories of abuse he suffered as a child, which turns into the anger he prepares for his fight with Damian. Eventually, a pay-per-view fight between Damian and Creed is held at Dodger Stadium, in which Creed comes out victorious and wins his title belt back.
Creed 3 has non-stop action, excitement and a great storyline throughout the movie with key events and scenes that made me laugh, made me angry, and most importantly, kept me in my seat the entire time. All and all, Creed 3 is a great movie that I highly recommend seeing before it leaves the theaters.
Leave a Comment
Your donation will support the student journalists of Thomas S. Wootton High School. Your contribution will allow us to purchase equipment and cover our annual website hosting costs.
About the Contributor
Darren Shapiro, sports editor

Senior Darren Shapiro is a sports editor in his fourth year on Common Sense. In his free time, he enjoys playing sports and hanging out with friends....