Indoor Track team continues to impress as season pushes on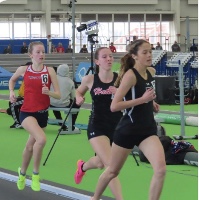 The indoor track season has seen four action-packed meets take place with even more successful performances than the first three.
The team has had only a small group of runners participate in meets . This has led to issues for Distance Coach Dan Rodgers when deciding who can run each meet and who has a chance to run the restrictive postseason meets at the end of February.
To begin the middle section of the regular season schedule, was the Montgomery Invitational on Jan. 14 at the MOCO Sports Complex. Junior Victoria Ketzler ran a 5:11 1600 and finished third behind Meredith Gotzman from St. John's (5:07) and Temi Ariyo from Overlea (5:02). Ketzler has consistently led the girls' distance team all season and has always finished top five. The boys had only four qualify (juniors Troy Bailey and Kurtus Hsu, reshman Luke Gabrielle, sophomore Edward Sun) and they finished 21st out of 38 in the 4×800 relay with a time of 9:04. Even with a shorthanded roster, these five showed out and represented the school well.
Next was the fourth and final MCPS all-invite meet on Jan. 17. This time, Ketzler "went off course" due to Coach Dan Rodgers wanting to give her a break before the grind of the postseason. Instead of the mile, she competed in the 500 dash and finished fifth with a time of 1:26. Junior Meilani Rodgers also competed in the 500 for the first time and she finished with a time of 1:29, 13th place overall. Freshman Kal Yewslew finished with a new personal record in the 800 m (2:24). Both Yewslew and Rodgers have struggled with availability this season, but when they are present, they have put up impressive stats that have helped the team tremendously.
Senior sprinter Reed Zaman again showed out in the 55 dash with a time of 6.81 secs and was backed up by junior Sreeanish Yara (39:02, 300) and freshman Albert Xing (1:31, 500). For the girls, freshman duo Zarra Burnett (8.14, 55) and Simrik Mahata (49.13, 300) led the way. This section of the team has had much more availability for meets this season than distance has.
Then came the Last Track to Philly Invitational, the one and only meet of the season located in Bethesda, on Jan. 21. Freshman Luke Gabrielle finished 15th in the preliminary 3200 with a time of 10:52. The SMR team (Sprinters Medley Relay) included freshman Grant McGraw, junior RJ Cui, senior Ryeed Zaman, and junior Troy Bailey who finished fifth with a time of 3:55. The girls SMR team ran a 5:07 and finished 21st, led by juniors Victoria Ketzler and Meilani Rodgers along with Aaliyah Jalloh and Xinsu Lu.
Finally, the regular season was capped off with the Montgomery County all-invite meet on Jan. 25. With standings on the line, Troy Bailey ran a 2:09 800/14th and Victoria Ketzler ran a PR 2:25 800/fourth to lead the distance team once again. Heading into the postseason, the team will be relying on these two heavily to carry the load in their respective events.
Overall, performances during these weeks were solid and will solidify positioning and opportunities come postseason time. Those three meets will be the Ocean Breeze Invitational in Staten Island, New York, the Regional Championship, and the State Final.
For the people not competing in the final three meets, these final weeks of the indoor season prove as opportunities for them to continue to train hard in every long run and speed workout in order to prepare themselves physically and mentally for the upcoming outdoor track season this coming spring.
Leave a Comment
Your donation will support the student journalists of Thomas S. Wootton High School. Your contribution will allow us to purchase equipment and cover our annual website hosting costs.
About the Contributor
Owen Lomotan, staff writer


Owen Lomotan is a senior staff writer who covers Patriots Cross Country and Track. When not writing for Common Sense, he enjoys spending time with...