They said yes: Spotlight on top promposals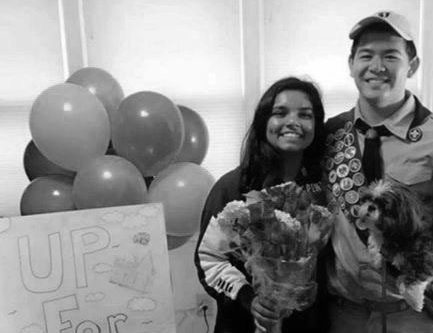 Up, up and away
Senior Matthew Lam upped promposal standards with an elaborate promposal to his girlfriend, senior Rhea Kulkarni, which was centered around the movie "Up."
Because "Up," is one of Kulkarni's favorite movies, Lam gathered inspiration from different elements from the movie. He began planning over a month in advance by constructing a scrapbook full of pictures of him and his girlfriend, similar to one that two characters share in the movie. "The scrapbook was exactly like [the main characters] Carl and Ellie's adventure book. He created it around that," Kulkarni said.
In "Up," Carl follows his map to the fictional location of Paradise Falls. In real life, Lam developed clues for a scavenger hunt eventually led Kulkarni back to her house, where the official promposal took place. "I didn't want to make it cliche with just a poster, so I made her go on a scavenger hunt to places in where we've had memories to make it more personal," Lam said.
While the planning for the big event took a considerable amount of time, the scavenger hunt only took Kulkarni about an hour to find all seven locations. When she arrived at her house, Lam was waiting in full "Up" attire, wearing a Boy Scout uniform that resembled one that a character in the movie wore.
Beauty finds her Beast
Belle and the Beast prove to be a power couple once again with senior Alex Byck's "Beauty and the Beast" themed promposal to his girlfriend, senior Hailey Kerben.
The movie has special significance to both Byck and Kerben that dates back to earlier in their childhood. "It was my favorite Disney movie as a little girl. Also, Alex grew up with lots of Disney influence because both of his parents used to work at Disney," Kerben said.
The couple recently saw the new version of the movie in theaters, which ultimately sparked Byck's idea for his promposal. The movie's importance to both of them proved to be the ideal theme for his setup. "I wanted to make it as personal and special as possible because prom is a really big deal," Byck said.
Setting up the scene took him about an hour. Byck enlisted the help of Kerben's mother and sister to help him light over 100 candles that spelled out "Prom" on Kerben's deck along with a single rose in a jar that resembled the same one in the movie.
Because Kerben happened to be away that weekend, Byck used it to his advantage. "I wanted to surprise her and she was just coming back from a trip so the timing just worked out well," Byck said.
Sydney Cohen
Features Editor